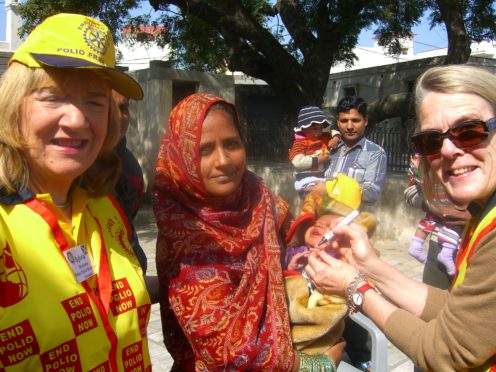 Prominent buildings across Fife will be lit up in purple on Saturday to mark World Polio Day, with Rotary Clubs throughout the region giving the initiative their backing.
Kirkcaldy's Adam Smith Theatre and the Carnegie Hall in Dunfermline will be among the buildings taking part to help raise awareness of Rotary International's long-standing campaign to save children from polio, which can cause death, paralysis and lifelong disabilities.
Many activities will use the colour purple, which is a symbol of the fight against polio as it is inspired by the colour of the dye painted on the pinkie finger of each child who has been vaccinated.
The Rotary Clubs of St Andrews and St Andrews Kilrymont will be celebrating World Polio Day and Hamish Tait, president of the St Andrews Rotary Club, commented: "The eradication of polio throughout the world is a major Rotary project.
"Both the clubs in St Andrews have been prominent in their support and have initiated many projects and donated substantial amounts of money to the cause.
"The recent announcement from WHO of the eradication of this disease from Africa is a major milestone on the road to a polio-free world."
Members of Carnegie, Dunfermline and West Fife Rotary clubs will similarly be celebrating the occasion.
President Libby Seath, of Carnegie Dunfermline Rotary Club, speaking on behalf of all three Dunfermline clubs, commented: "We're proud to be marking World Polio Day locally, and recognising the work of Rotary and our partners in the fight for a polio free-world. Together we will end polio."
Shops, lampposts and notice boards in Burntisland, Kinghorn and Aberdour will be displaying posters, while information on polio will be available by scanning QR codes displayed on the posters.
That's all been co-ordinated by the Rotary Club of Burntisland and Kinghorn, which has also launched a Purple 4 Polio Photo Contest on its Facebook page.
The club is looking for the most family friendly, original and fun photos of something purple to celebrate the Rotary campaign.