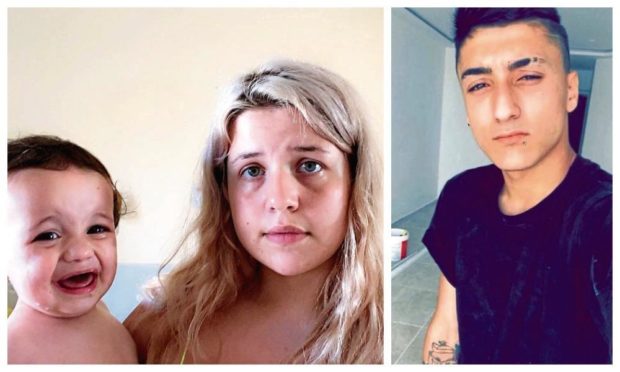 A judge who ordered a Fife teenager and her baby to travel across Europe during the lockdown was not told her ex-partner had admitted carrying out a violent assault, it can be revealed.
Kyle Borg had already admitted grievous bodily harm eight months before Leigha Collins, from Kinghorn, was ordered to return to Malta after she had fled the island, claiming to be in fear of her partner after their relationship broke down.
In April, Court of Session judge Lord Brailsford ordered Ms Collins, then 18, to return baby Hayes to his father.
Her lawyers told the judge Ms Collins' claims Borg had a violent temper were bolstered by his alleged attack on a pizza delivery driver. However, the judge said Borg was innocent until proven guilty. Ms Collins' claims Borg's drug use added to her fears around his temper were also discounted by the judge after he was told Borg's cannabis use was for medicinal reasons.
But last week, as Borg was sentenced to three years' probation for the assault and sent on a drug rehabilitation course, it emerged he had admitted the charge of grievous bodily harm last July.
Unimaginable: Women's Aid condemns plight of teenage mum ordered back to Malta by a Scots judge unaware her ex-partner was convicted thug
Campaigners and politicians are now calling for an investigation and urging ministers to help secure Ms Collins' return – and demanding to know why Lord Brailsford was unaware Borg had admitted the attack.
Dr Marsha Scott of Scottish Women's Aid said: "That this young woman has been forced by Scottish courts to travel to a foreign country is unimaginable."
It has emerged Lord Brailsford was also unaware of a report from Borg's probation officer, raising concerns about his drug addiction.
On Thursday, Maltese magistrate Dr Astrid May Grima heard how Borg, 20, had severely beaten pizza delivery driver Imran Khan, inflicting serious injuries in the attack last June. He had filed a guilty plea on July 30 2019.
Judge Brailsford was unaware of the guilty plea when he sent Leigha back to Malta in April.
Ms Collins, 19, has been forced to leave her older son, Alfie, three, with her parents in Fife, while she remains with baby Hayes.
She said: "The fact Borg had already pleaded guilty to a violent assault along with his probation officers' report and concerns about his drug-taking and psychological problems should have been considered by Lord Brailsford before he made any ruling to return me.
"I've been threatened repeatedly with arrest by armed police officers whenever I refuse to leave Borg alone with Hayes – he turns up stinking of cannabis."
Borg was represented at the Court of Session hearing by QC Scott McAlpine and solicitor Marisa Cullen of Edinburgh law firm Morton Fraser. Asked why the judge had not been made aware of Borg's guilty plea, the firm declined to comment. Meanwhile, Borg's civil legal adviser in Malta said he had informed Morton Fraser the GBH case was "sub-judice".
MSP Alex Rowley, who has campaigned for ministers to get involved, will raise the case at Holyrood again this week.
A spokeswoman for the Judicial Office for Scotland said: "When deciding a case a judge will always carefully consider the facts that are presented to the court by representatives for both parties."