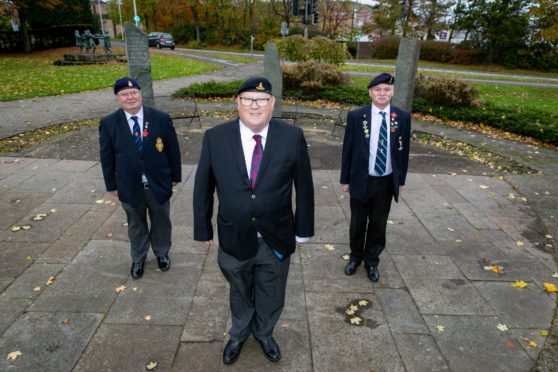 A Remembrance Sunday ceremony at a Fife war memorial will go ahead despite the continuing Covid-19 restrictions but the public are being urged to stay away.
Representatives from the British Legion in Glenrothes have confirmed around 30 organisations, including armed forces charities, will conduct procession to the war memorial in Glenrothes, before a wreath laying ceremony at the site.
Safety restrictions and social distancing requirements have left organisers calling for the public to stay at home and pay their respects at the memorial site individually in the days that follow.
The development follows The Courier's report earlier this month that Armistice Day ceremonies across Fife were being cancelled because of fears of the spread of Covid-19 among large public gatherings, which have been ruled out by the Scottish Government.
Armistice Day services across Tayside and Fife wiped out amid coronavirus fears
Organisers of Kirkcaldy Armistice Day ceremony, the region's largest Remembrance Day event, which attracts several thousand people every year, have already confirmed it has been cancelled, with the public urged to stay away.
Glenrothes Conservative Councillor, Mick Green, a former member of the 32nd Regiment Royal Artillery and one of the organisers, said it had been decided to go ahead with vastly reduced event, as a mark of respect for those who had made the ultimate sacrifice during conflict.
"The ongoing coronavirus pandemic has made it impossible for just about all Remembrance Day events to go ahead because of the social distancing guidelines.
"However, we assessed the situation in Glenrothes and given the amount of space we have at the war memorial and its approach along Church Street, we are able to have around  30 representatives from various organisations able to take part in a scaled down ceremony.
"We have also been able to set up a safe approach and exit for those taking part with the event officiated by British Legion members acting as ushers.
"Sadly, as I'm sure many will appreciate, while it's important that we continue to pay our respects to our comrades and to those loved ones, we must urge members of the public not to turn up this year to maintain their safety and that of others.
"It will be , I'm sure, heartbreaking  for many but this is the only way of being able to safely pay our respects during such unprecedented times we are all living through."
Organisers will march to the Glenrothes war memorial at 10.30am on November 8, with wreath laying by invited organisations to take place at staggered intervals thereafter.