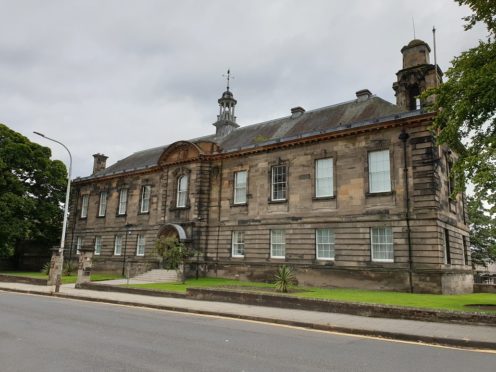 A Fife man who threatened to kill and rape police officers during a violent street struggle lost the tip of a finger when it was slammed in a cell door, a court has heard.
Lee McGuinness, described a prisoner at HMP Perth, has been jailed for two years for what a sheriff branded "outrageous" behaviour in Dunfermline's Brucefield Avenue on September 12.
McGuinness, who lashed out violently at officers trying to bring him under control, ended up with the most serious injuries when the tip of one of his fingers was cut off as he pushed back against police trying to close his cell door.
Appearing via video link at Kirkcaldy Sheriff Court, McGuinness admitted behaving in a threatening and abusive manner by striking the roof of a vehicle, punching a man repeatedly on the head and repeatedly trying to kick and punch him.
He also admitted lashing out violently against four police officers with his arms, legs and body, spitting on a female officer's head while shouting he had Covid-19, uttering threats of violence towards police officers and shouting offensive sexual remarks at another female officer who had been called to attend.
Fiscal Ronnie Hay told the court a man had been in his vehicle on the phone in Brucefield Avenue when McGuinness approached and started remonstrating with him.
McGuinness banged on the top of the car and, when the man got out, McGuinness punched him in the face, making him drop his phone.
When he tried to pick it up, McGuinness aimed a kick at him and began to chase him around parked vehicles.
Witnesses heard McGuinness shouting that his victim was a "beast" and adding chilling death threats.
Police arrived and due to his extremely aggressive and violent behaviour, officers handcuffed McGuinness.
However, Mr Hay said McGuinness said he would "annihilate" the officers, telling one "I'll do you", and aiming a headbutt at another.
Leg restraints were applied but when officers stood him up, the accused spat in a female officer's face and said he had Covid-19.
A spit hood was placed on him but further abuse was levelled at the officers, with heavily sexualised comments directed towards another female officer.
Defence solicitor Gordon Martin said: "He consumed two bottles of Buckfast and clearly, that in itself would be enough to inhibit him but combined with the medication prescribed to him, it means he has little or no recollection of this incident at all.
Mr Martin went on to explain how McGuinness needed surgery on his finger after it was trapped in a cell door while he was in custody.
He said: "He told the police it was his own fault – it was nothing to do with the police and he regretted his conduct Mr McGuinness is ashamed of how he behaved."
However, Sheriff Jamie Gilchrist QC sentenced McGuinness to two years behind bars, telling him: "This is a disgraceful assault on a member of the public, and your behaviour towards the police officer was even more outrageous."