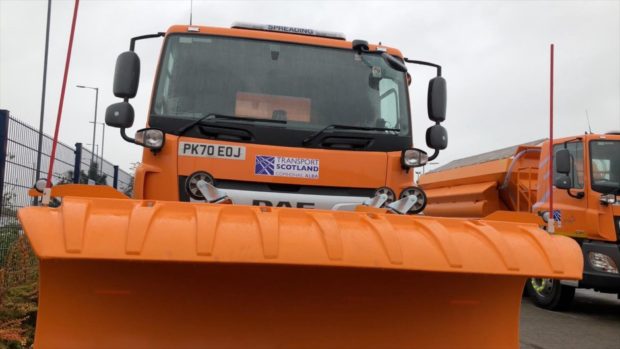 Fifers are being given the opportunity to christen the region's very own gritter lorry which will be out and about across Scotland's roads this winter.
Highway design, maintenance and construction company BEAR Scotland has teamed up with DC Thomson-owned radio station Kingdom FM and The Courier in asking people to name one of their salt spreaders that will soon be put to good use over the coming months.
The name needs to be timeless as it will be on the gritter for eight to 12 years, but apart from that it's up to your imagination.
It could be winter-themed, could be a pun or play on words and might tie in famous Fifers or Fife landmarks.
Previous gritters across the UK have been named after well-known faces, like Brad Grit or Sir Andy Flurry, while film titles have also come in handy as a guide, with For Your Ice Only, Gritty Gritty Bang Bang and Blizzard of Oz all among those chosen over the years.
However, it's very much a blank slate, and names can be suggested on the Kingdom FM website at https://www.kingdomfm.co.uk/win/name-a-gritter/.
The top five names will then go to a vote, with the winner announced on Friday's Breakfast Show with Dave Connor and Vanessa Motion on Kingdom FM, and in The Courier.
Dave and Vanessa said in a statement: "We are really looking forward to seeing what our funny Fifers can come up with.
"It's a real money can't buy prize, but you only have this week to do it.
"So, get your skates on!"
Alasdair Allen, BEAR Scotland senior operations manager, said: "We've got a brand new fleet of 47 winter vehicles which are bright orange and we're looking to name some of them.
"The national management contract that we have with Transport Scotland is for eight to 12 years, so it will have to be name that will last.
"But part of the reason we're doing this competition is that we're trying to raise people's awareness of what we do because a lot of the work is work people don't see because it's done overnight.
"There's a lot of effort that goes into it."