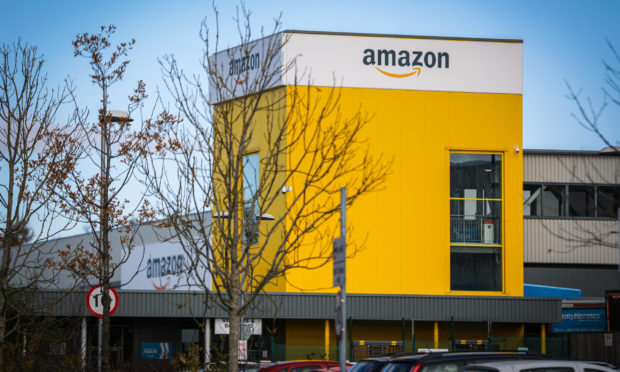 Retail giant Amazon is working to ensure customer orders are fulfilled following a blaze at its massive Dunfermline depot.
As an investigation was launched into the cause of Thursday night's fire, a contingency plan swung into action to minimise the impact on orders from across Scotland and the north of England.
The Fife warehouse remained closed on Friday while the damage was assessed and it is not yet clear when it will reopen.
No-one was injured and staff are being paid for shifts missed due to the incident.
Amazon said it had a network of fulfilment centres in the UK and Europe and a range of contingency measures to ensure the impact on customers was minimised as the company enters the busy Christmas rush period.
Fife Amazon warehouse evacuated as fire crews battle blaze https://t.co/7oEz71InaS pic.twitter.com/Wgfzw9xVkf

— The Courier (@thecourieruk) November 12, 2020
A spokesperson said: "We can confirm there was a fire at our Dunfermline fulfilment centre.
"The safety of our people is our priority and all associates were safely evacuated."
Amazon's Dunfermline site is one of the UK's biggest and employs more than 1,000 people.
A recruitment drive will see staff numbers double ahead of  Black Friday and Cyber Monday later this month, when millions of orders will be placed.
The blaze broke out at around 9.30pm in one of the pick towers, where staff gather items to make up orders.
Workers were evacuated and were given tinfoil blankets as they stood outside, before being sent home.
Police said they were working with the fire service to establish the cause of the incident.
"Around 9.55pm on Thursday,  November 12 2020, police were called to a report of a fire within a commercial premises on Amazon Way, Dunfermline.
"Emergency services attended and the fire was extinguished.
"A joint investigation is being carried out to establish the cause of the fire so enquiries are continuing."
Firefighters battled for more than three hours to contain the outbreak on the building's second floor.
A fire and rescue spokeswoman said: "We got a call at 9.31pm. We had four appliances in attendance.
"It was a fire in a warehouse located in the second floor. All people were evacuated from the building and firefighters extinguished the fire.
"The stop message came at 12.24am."
The Amazon Dunfermline site is one of 17 in the UK and is the size of 15 football pitches.
It was evacuated during a bomb scare on September 6 when a suspicious package was discovered but it turned out to be a false alarm.
1
For as little as £5.99 a month you can access all of our content, including Premium articles.
Subscribe