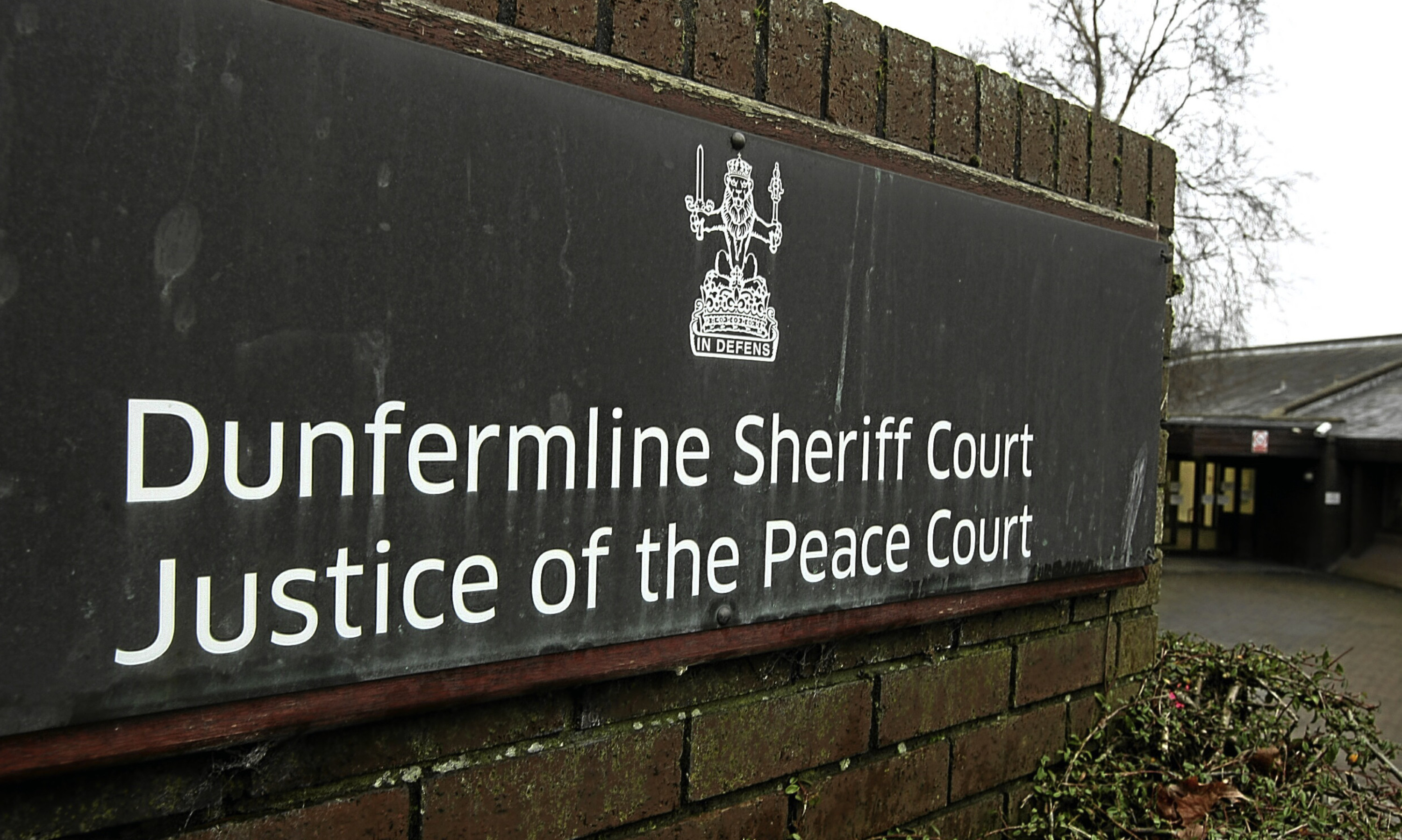 Two Fife company directors who created a hazardous dump of carpets and plasterboard that remains an eyesore after three years have been sentenced to carry out unpaid work.
The ugly blot on the landscape at the M90 Commerce Park at Lathalmond is directly next to a popular bus museum and smells of rotten eggs, Dunfermline Sheriff Court heard.
It will cost around £500,000 to remove the waste but it remains unclear who will carry out and pay for the huge clear-up operation.
Neither SEPA nor Fife Council are taking responsibility for restoring the site and there is the possibility of further prosecutions.
Michael Hope and James Winters appeared at Dunfermline Sheriff Court for running an illegal operation which saw them reprocess waste plasterboard into gypsum, which was then used as animal bedding.
When the business collapsed they were sequestrated and Winters now lives in a caravan.
Sheriff Craig McSherry showed sympathy for the ill-fated businessmen.
He told them: "It's a tragic situation you find yourself in with the misunderstanding of what was allowed and not allowed resulting in sequestration."
The sheriff acknowledged both men had been prevented by the authorities over recent years from doing anything to resolve the situation.
He went on: "There has been considerable leakage into the environment and nobody seems to be bothered. I find that absolutely astonishing."
The company had previously received accolades and business award nominations but it had never held a waste management licence.
Hope, 50, of Lindsay Cottage, Gairneyburn Lane, Powmill appeared in the dock alongside Winters, 51, c/o Woodend Farm, Kilsyth.
They admitted that between September 28 2012 and February 21 2013 at unit 3, M90 Commerce Park, Lathalmond, near Dunfermline they kept controlled waste namely 3500 tonnes of waste carpets and approximately 3500 tonnes of waste plasterboard in a manner likely to cause pollution of the environment or harm to human health by keeping it there and the waste produced offensive odours.
Hope and Winters were directors of First Option Services until 2013. Between January 2010 and September 2012, they operated a waste management facility at the site and would accept various types of waste, initially mainly plasterboard and later carpets.
Depute fiscal Fiona Caldwell previously told the court: "This case is concerned with the significant quantities of carpet and plasterboard that remain on site as a result of the company's operations."
In June 2012, following incidents involving the deaths of livestock where waste gypsum had been used as an additional absorbent bedding, SEPA produced a position statement clarifying there were no exemptions for waste plasterboard being reprocessed in this manner.
Ms Caldwell said: "The use of wastes originally from plasterboard together with biodegradable waste can lead to the production of high concentrations of hydrogen and sulphide gas. Hydrogen sulphide is both odorous and toxic and would present a significant risk to animal and human life."
Since September 2012, all 3548 tonnes of carpets have remained piled at the site.
There are 3500 tonnes of plasterboard in a warehouse, piled outside and scattered on top of the carpet mountain.
"It is an eyesore and complaints have been received from members of the public," said Ms Caldwell.
"The carpets have started to degrade and decompose releasing landfill gas. Landfill gas is a combination of volatile and highly explosive methane and carbon dioxide."
The depute went on: "Carpets will decompose over time and the leachate produced is likely to contain low levels of a range of hazardous and non-hazardous substances.
"Waste carpets are generally older and contain chemicals that are now restricted or withdrawn from use and are potentially harmful to wildlife and ecosystems.
"It is likely that the plasterboard will break down to produced hydrogen sulphide. Hyrdogen sulphide is toxic, harmful to health and extremely odorous, it smells of rotten eggs."
The dump is situated beside the Scottish Vintage Bus Museum and staff there have complained about the negative impact on the business.
The company received around £276,000 for taking the plasterboard, £248,000 for taking the carpets and made £37,000 from selling recycled gypsum.
Solicitors for both men asked for their clients to be admonished as their failed business had resulted in financial ruin for them.
Sheriff Craig McSherry sentenced both men to community payback orders each with 150 hours of unpaid work.