Michael Alexander meets a man who is trying to breathe new life into the Fife fishing fleet by encouraging local people to eat local seafood.
If there's one industry where you'll find strong views about the European Union referendum then it is fishing.
But whilst the recently appointed manager of the organisation representing Fife's East Neuk prawn boat fleet knows there are particularly robust opinions opposing the EU in Scotland's North East fishing ports, he insists he is "not politically minded" when The Courier catches up with him to discuss his pioneering proposal to boost Fife's "struggling" shellfish industry.
Tom Mackenzie, who took over from Billy Hughes as manager of the Fife Fishermen's Mutual Association (Pittenweem) Ltd in January, will launch a summer kiosk outside the fish market in Pittenweem on June 17 selling fresh seafood quite literally just out of the water.
Among the selection will be langoustine, crabs, lobster, mackerel, both live and cooked. Prawn tails will also be available both cooked and uncooked, along with dressed crab.
The kiosk will be operated by well-known local fishmonger George Allan and a couple of assistants. It will be open every-day during July and August and also the last two weekends in June and the first two weekends in September.
The kiosk, similar to projects at other UK ports, will be known as FMA Seafood and if successful might become a permanent sight possibly at farmers markets or shows around the country.
But the trial was also a direct response to the "craziness" whereby just about every piece of shellfish currently landed at Pittenweem is packed into lorries and goes to Peterhead or Mintlaw, Aberdeenshire, for processing and packing.
From there it is exported mainly to Spain, France and Italy – hardly ever being sold in Fife hotels or restaurants.
Tom hopes that the kiosk will spark a renewed interest in Fife-caught shellfish and give a boost to an otherwise ailing industry.
"When the shellfish goes north, it's business at the end of the day, " he says.
"But I've spent the five months since I took over at the FMA trying to push Pittenweem langoustine through Viv Collie (former Food from Fife co-ordinator). With her assistance, we've had chefs down, we've had students down, we've had tutors down. There have been lots of positive noises I'm just waiting for somebody to actually say they are interested in putting it on their menus!"
The 59-year-old has spent his entire working life in the East Neuk fishing industry.
Raised in Anstruther, his late- father Sandy was skipper of the 50-foot Pittenweem-based vessel the Bright Ray, and whilst Tom never became a fisherman himself, he's worked in and around the Pittenweem fish market since his first job selling fish there at 16. His younger brother, who was recently laid off from the North Sea oil industry, is now operating a prawn boat out of Pittenweem. Where once there was a mass exodus from the fishing industry onto the more lucrative rigs, now the men are coming back, Tom says.
Yet despite Pittenweem Harbour still being home to around 35 prawn and creel boats which generated revenues of around £3.5 million last year, Tom says the fleet continues to struggle.
It is now 14 years since any white fish was landed at Pittenweem.
Prawns, crabs, scallops, lobsters, clams and razor fish have taken their place.
The prawn boats operating out of Pittenweem mainly fish within 15 miles of the harbour, sometimes spending periods off the north-east coast of England or the west coast of Scotland.
Yet he said prawn catches have been particularly low in recent months – certainly well below controversial European quotas – and all that has kept the fleet from going under is relatively high prices through simple supply and demand.
"The place has totally changed in the 40 odd years I've been here," he says. "When I started in 1972 the industry was totally fish.  In the '80s, fish was plentiful, close at hand. But as every year went on they seemed to be getting 10 miles further off and 10 miles further off.
"Now even if the fishermen here were licensed to catch fish, which they are not, there's barely any to be found anywhere between the Forth and Tay estuaries."
Tom said some still blamed Danish industrial sand eel fishermen for the decline of the East Neuk fleet. In the late 1990s the Danes targeted the Wee Bankie, off south-east Scotland. They were accused of indiscriminately hoovering up all sorts of fish, and became embroiled in confrontations with East Neuk vessels.
Yet with fish stocks still plentiful north and south of the Tay and Forth estuaries, it's Tom's opinion that chemicals washing from fields into the estuaries could be to blame for the demise of fish stocks off the Fife coast, and he believes there should be a thorough scientific investigation into this.
It was a theory also put forward by the late-Pittenweem-based skipper John Bowman who increasingly reported "sores" on fish off Fife more than a decade ago. Investigations ceased after Mr Bowman died at the wheel of his vessel, the Unity, which went down off Ramsgate in December 2006.
In the meantime, Tom hopes the FMA  kiosk will put Pittenweem shellfish on the map.
"I just think not enough people appreciate what a good quality Pittenweem langoustine is. As far as I'm concerned there's nothing tastier! We're really excited about it.  I look forward to looking out my window at the queues."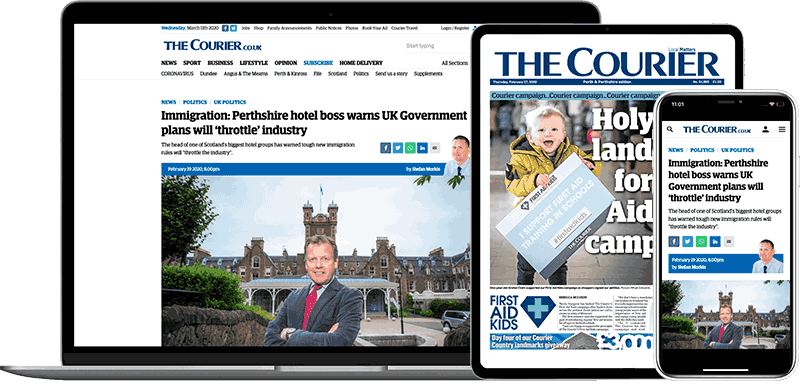 Help support quality local journalism … become a digital subscriber to The Courier
For as little as £5.99 a month you can access all of our content, including Premium articles.
Subscribe