Clare Hollingworth was one of the greatest reporters of the 20th century, and famously scooped the competition by reporting the Nazi invasion of Poland in September 1939. Michael Alexander speaks to her great-nephew Patrick Garrett from Fife who has written her biography.
She has been described by legendary war correspondent Kate Adie as a "pioneer" and was praised by BBC foreign affairs editor John Simpson for her "extraordinary impact" on journalism.
There's no denying that Clare Hollingworth, now 105 and living in Hong Kong, is a legend in her own lifetime.
It was her dispatches as a cub reporter for the Daily Telegraph that alerted the British Foreign Office to the fact that Germany had invaded Poland in 1939. In the globetrotting career that followed, she became known predominantly for combat coverage everywhere from Algeria to Vietnam and famously had a few skirmishes with Soviet spies.
But whilst she is still recognised as the standard bearer of reporting during an age when it was unusual to be female in a hostile environment, perhaps one of her greatest untold success stories is the influence she had on a young relative in Fife who himself went on to enjoy an international journalistic career.
Clare's great nephew Patrick Garrett, now a writer based in Moscow, was in P5 at Falkland Primary when he got bitten by the journalism bug.
The boy, who went on to become a globe-trotting TV journalist, was nominated as editor of the Fife school's newspaper and later, whilst studying at Glenalmond College in Perthshire, he helped pull together a satirical magazine.
It was a trajectory that led him on to a career in TV news including spells working in Glasgow, Hamburg and then Russia where he covered hard news including coups and war in Chechnya. He also covered the Rwandan genocide and subsequent refugee crisis.
But looking back, Patrick says the greatest inspiration underpinning his early career was the life of his great aunt Clare.
And it's inspired the 49-year-old to write a biography about the life and times of his relative who, at 105, is thought to be the oldest journalist alive.
"Her big scoop was the outbreak of the Second World War," Patrick tells The Courier in an interview from Berlin.
"But that tends to overshadow her other achievements. That was really just the start. She was predominantly known for combat coverage – Algeria, the desert war, Vietnam etc.
"But she also got the scoop on the Kim Philby defection. And with her husband they had an inside on the "Missing Macleans" defection as they knew both Donald and his wife Melinda before they jumped to the USSR.
"Clare then went on to break new ground in China – one of the first western correspondents on the ground there since the cultural revolution.
"She was a fantastic subject – though her long life is what made it a challenge. She was still active into her late eighties."
Patrick, who is the son of retired Falkland Fife councillor Anthony Garrett, was very familiar with Clare's story when he was growing up. At the time he wanted to be an RAF pilot – and so her work as a defence correspondent was fascinating to him. She was abroad when he was young – in Vietnam, the Middle East, and China mainly – but whenever she was in London he'd try and see her.
"In those days RAF Leuchars was extremely active, and we'd have Phantoms screaming around Fife," he recalls. "It was always a treat to phone Aunt Clare and talk about these things – including what were then  'new'  aircraft like the Tornado!"
Patrick, who worked with most of the major UK/US TV networks over 15 years before going into PR for an airline, realised his aunt was famous for her reports from the front lines of Poland in 1939.
But in researching her story, and realising he had "bitten off more than he expected",  he dug up things about her life that even she never knew.
"It turns out that some people she knew in the 1930s were Soviet spies – and they and later she were put under surveillance by MI5," he explains.
"Another chapter reveals how she headed up an organisation in Poland that saved 3,000 people – politicians, army officers, trade unionists, journalists and writers, and Jews – from the hands of the Nazis.
"Clare hardly mentioned it in her autobiography from 1990 but it was an extraordinary achievement that I don't think ever got the recognition that perhaps it deserved."
Clare is a frail, blind 105-year-old now.
But her spirit remains undimmed, Patrick says. "Even when she was aged 100," he adds, "she still insisted her passport was at her bedside at night in case the call came and she had to go off and cover a story. It was wishful thinking of course, but it is a good example of the life-force in her."
*The book – Of Fortunes and War: Clare Hollingworth, first of the female war correspondents – is available on order from bookshops, or via amazon.co.uk.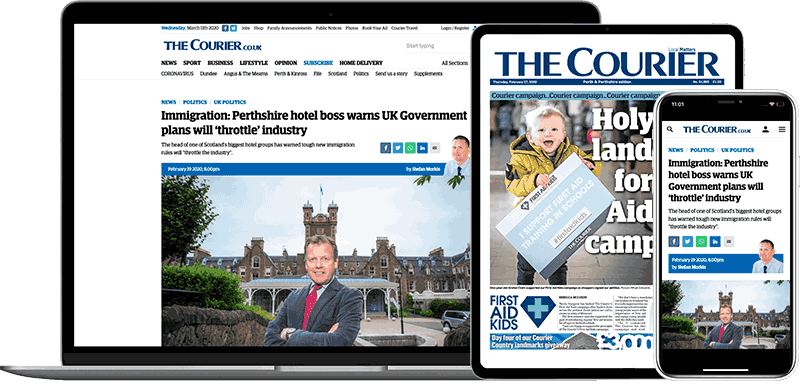 Help support quality local journalism … become a digital subscriber to The Courier
For as little as £5.99 a month you can access all of our content, including Premium articles.
Subscribe