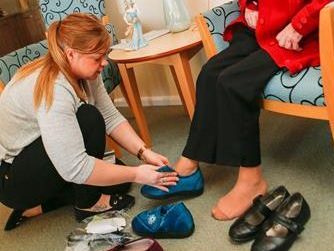 First it was zimmers, now there is a Fife amnesty for slippery slippers.
Last week The Courier told how Fife Council was hoping to encourage locals to hand back aids, including zimmers and walking sticks, in a new initiative.
This followed the revelation more than 160,000 pieces of equipment were lying around peoples' homes across the kingdom.
Now it's time to turn in faulty footwear and broken baffies to ensure underfoot safety.
It comes as part of a new initiative to prevent older people coming to harm by tripping or falling over.
It was the brainchild of Councillor Fiona Grant who came up with the idea of exchanging slippers which may lead to slip-ups through her work as a GP.
Following the successful launch of a slipper exchange by Fife Council earlier this year, another event will take place on Friday August 26 at the Lomond Centre in Glenrothes.
The slipper exchange project is encouraging older people to swap their old ill-fitting slippers for new ones which fit properly to help prevent falls in and around the home.
Chairwoman of the council's safer communities committee Margaret Kennedy said: "This is a really simple but effective way of helping older people move around more confidently.
"Many elderly people end up in hospital as a result of falls and trips in their homes every year.
"Now, as well as a new free pair of slippers, anyone attending our events can access a range of advice and support to assess their risk of falling and we can refer services to help."
The new scheme is jointly funded by Fife Council and Scottish Fire and Rescue Service.
Details of future events can be found at www.fifedirect.org.uk/electricblankets or call the safer communities team on 01592 583642 for more information.
The events will take place across the kingdom alongside the long-running successful electric blanket testing and adaptor exchange schemes.
The August 26 event runs from 10am to noon.