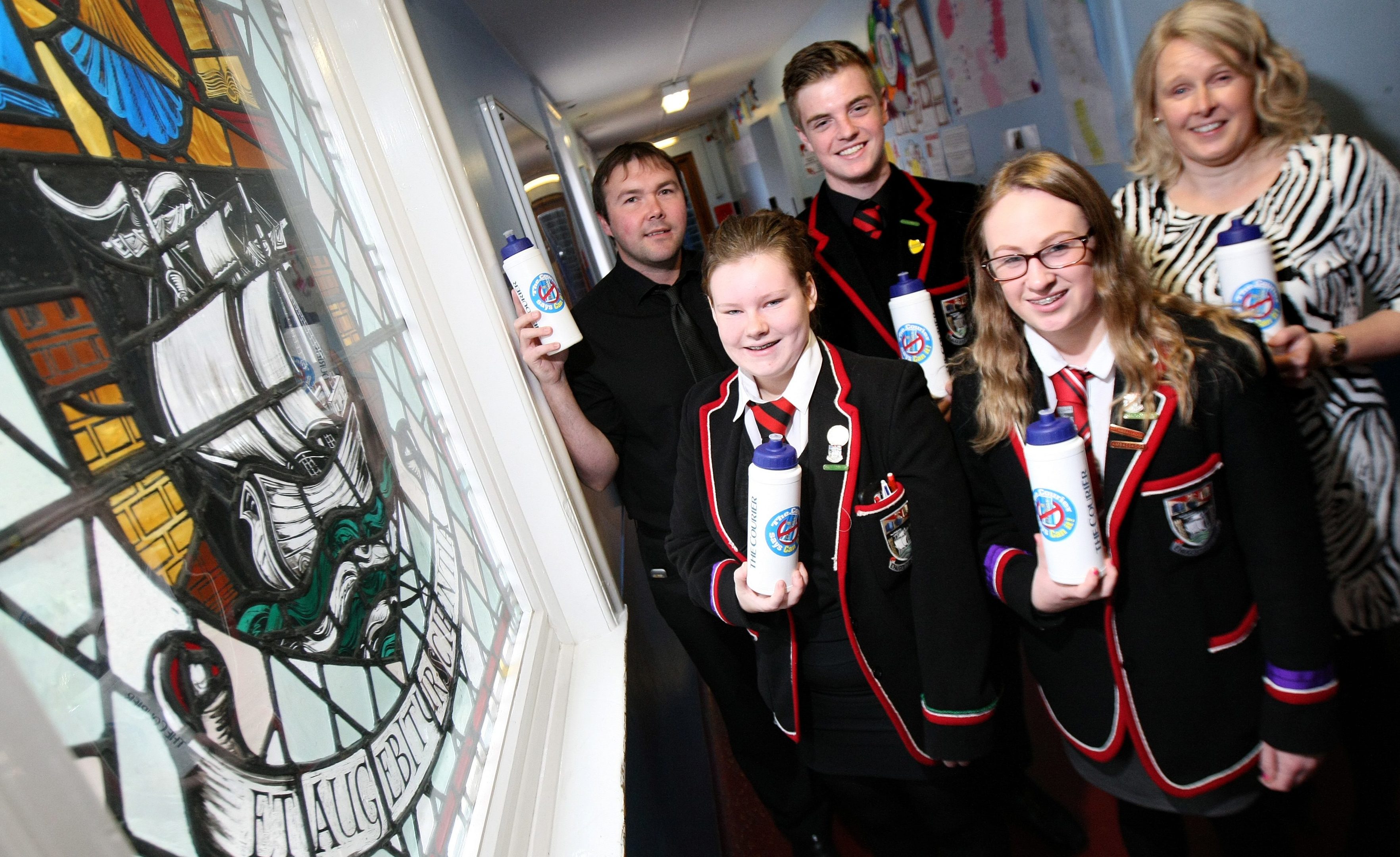 Staff and pupils at Waid Academy in Anstruther threw their weight behind The Courier's 'Can It' campaign earlier this year and pledged on Wednesday to keep backing the initiative in the weeks ahead.
Several Fife secondary schools are supporting The Courier's drive to ban caffeine-based fizzy 'energy' drinks from school premises in a bid to improve the health and wellbeing of the region's youngsters.
Specially designed 'Can It' water bottles are being given out to the new S1 cohort at participating schools as a thank you for signing up.
Teachers said they plan to hold assemblies in the coming weeks to reinforce the 'Can It' message.
The school's health and wellbeing group has been raising awareness of the potential effects of such drinks, while Waid's student congress has aimed to increase the number of water fountains on school premises.
A deal was struck with the school's PPP partners for one to be installed in the sports hall before the summer break.
Rector Iain Hughes said: "We currently do not sell carbonated drinks from any outlet in the school but there is still a task ahead to limit the number of these being brought onto school premises.
"We strongly believe that for the significant health benefits to our learners that we have to break down the culture of drinking energy drinks."
Teacher Jacqui Smith-Mackay added: "Now that they have the bottles, we'll have an assembly to explain to the pupils why they have got them and there will be a big drive from our Health and Wellbeing Group.
"We have mooted it around the school and have some of The Courier's articles and photos from earlier in the year, but it's something we're keen to get behind.
"We've got the Co-op nearby, the pupils have got the pocket blazers, so you'll see them try to come in with energy drinks every morning."
Other Fife schools backing the campaign include Kirkcaldy High, Bell Baxter High, Lochgelly High, Balwearie High, Glenrothes High, Queen Anne High, St Andrew's RC High and Inverkeithing High.
The campaign was also endorsed by Fife councillors earlier in the year.