The father of missing Fife man Allan Bryant Jr has reiterated his belief that his son has been murdered.
Ahead of Thursday's three year anniversary of his disappearance, his father, Allan Sr, has told The Courier that he believes that his son was killed hours after leaving a Glenrothes nightclub, and that his death has subsequently been covered up.
Appealing for anybody with information to come forward and end his family's suffering, Mr Bryant described what he believes has happened to his boy.
"Shortly after Allan left Styx nightclub, he's met up with some friends, went to someone's house, and I reckon that something quite quickly has happened to my son, or otherwise he would have text or phoned me like he normally does.
"I think it's happened that night, in the early hours of November 3 2013. Someone is covering it all up for some reason that I don't understand. I just wish they could feel our pain for one day. If they felt it for one day then they would understand and they would pick the phone up."
It was just after 2am on November 3 2013 that Allan Bryant Jr left Styx nightclub on Caskieberran Road.
Having enjoyed a night out with friends, CCTV footage shows him outside of the venue, seemingly under the influence of alcohol.
His movements afterwards are unknown, and the then 23-year-old has not been seen since.
An online campaign arranged by the Bryant family has gained over 80,000 supporters from around the world, while numerous high-profile events have helped to keep the search in the public eye.
Describing his heartache, Mr Bryant said: "We have to take each day as it comes. It's like living in a constant limbo.
"Our young daughter only just turned 12 and we need to make sure she's right because she's not quite grasped the situation and we don't know how that will affect her later on in life.
"You don't sleep at night (and) you hear rumours about what has happened to Allan. The past few years have been sheer hell not knowing what has happened.
"The thought that we're never going to see Allan again — all we want is closure and to have him back. There's not going to be much left of my son and we just pray that someone comes forward and contacts the police."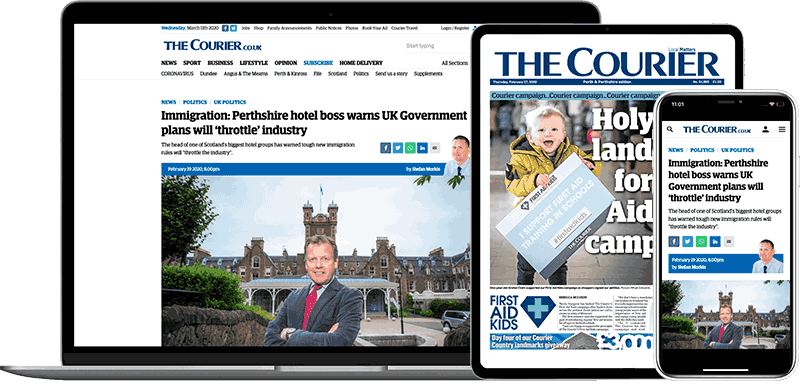 Help support quality local journalism … become a digital subscriber to The Courier
For as little as £5.99 a month you can access all of our content, including Premium articles.
Subscribe