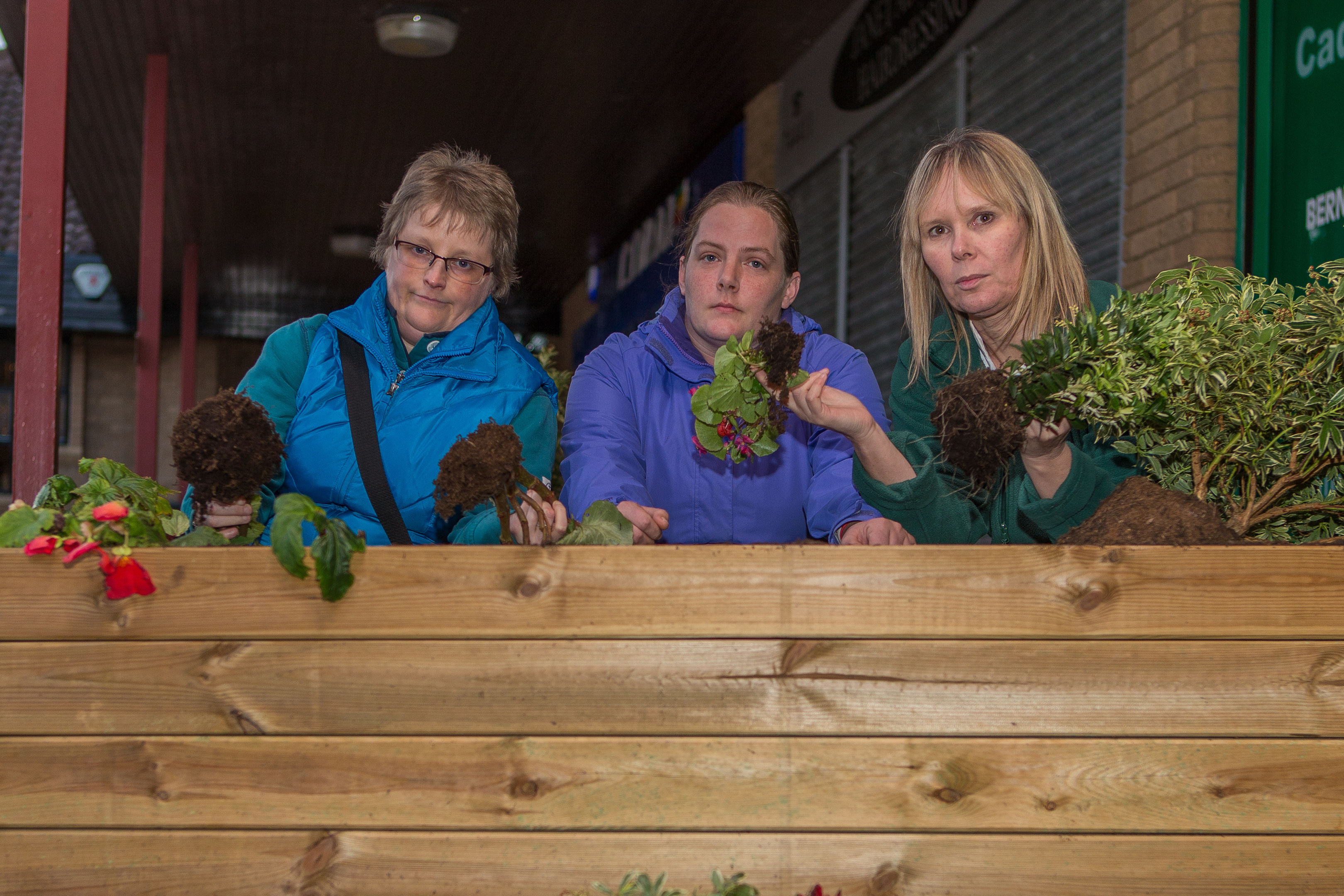 A devastated mother has condemned louts who trashed a second memorial to her tragic son.
Sionaid Brown said she did not have the words to describe how she felt after thugs ripped up flower beds planted in honour of nine-year-old Logan Carrie, who was killed in a road accident last year.
Friday night's outrage at Cadham shopping centre in Glenrothes came just two days after a memorial bench at Logan's primary school was destroyed by vandals.
Fighting back tears, Sionaid, 33, said: "I hope whoever did this realises the impact it has had."
Logan, an identical twin, died after being hit by a car as he crossed the A92 near his home on February 10 last year.
The community immediately rallied round his grieving family, raising money for his funeral and for a permanent memorial for the popular youngster.
Two planters full of flowers and a bench were placed outside Cadham Pharmacy, which alone raised £700 under the guidance of pharmacist Bernadette Brown.
She arrived at work on Saturday to find most of the flowers uprooted and strewn across the ground.
Sionaid said: "I am livid. The community paid for it.
"It's a memorial for Logan and also something to brighten up the community.
"I don't think there's anything that can be said to whoever did this."
The mother-of-five did not want Logan's twin brother Zak to see the mess, fearing it would be too upsetting for him, and revealed she did not want to see the devastation left at nearby Pitcoudie Primary's garden on Thursday morning.
But while she was angry at the vandals, she said the community in general had been very kind to her family.
"The community, from the day everything happened, have been amazing," she said.
"It wasn't just a case of helping until the funeral. They have helped us since then and it's been consistent."
Furious Bernadette said locals were "gutted" at the two counts of vandalism.
"I'm sure it's not personal to the family but it's adding insult to injury," she said.
"I knew the twins since they were little and when Logan passed suddenly this whole community were donating marvellously to the funeral costs."
She said some of the money raised went towards refurbishing the twins' bedroom and replacing bunk beds with a single bed for Zak.
Bernadette added: "My message to the vandals is we will not be deterred.
"We are going to replant because we are determined to maintain Logan's memory."