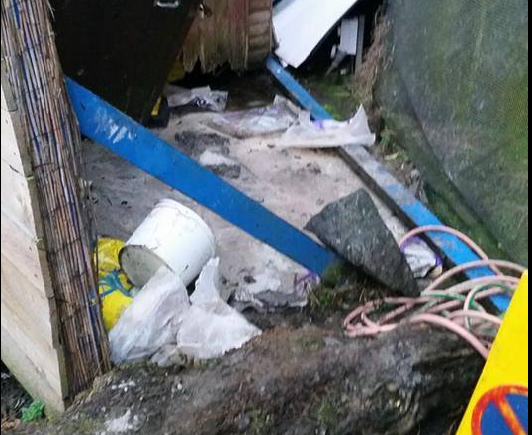 Deep Sea World has apologised for leaving a "shambles" at the entrance of the North Queensferry attraction.
With a full price ticket costing £15, the centre billed as "Scotland's national aquarium" has been criticised for dumping cement and debris at its front door.
Visitor Pete Cunningham, of Kettlebridge, said: "This is a premier visitor attraction and you don't dump rubbish at the front door.
"It's a shambles and they are just amateurs.
"And it's so expensive. There are a lot of negative comments on TripAdvisor.
"One family said for four adults and three kids it cost around £88 to go in, and you can get around the centre in 40 minutes."
Ms Cunningham, 62, was given complimentary tickets to Deep Sea World after complaining following a visit last August.
She had been unhappy about the condition of the toilets and selection of food available in the cafe.
"When the manager responded, he told me he was going to take positive action to make it good," said Ms Cunningham.
She added that "free tickets or not" she would not be going back until the premises were improved.
Manager Adrian Duffey acknowledged the mess at the front entrance "does not look great from a visitor's perspective" and said it had since been cleared up.
"The area shown in the photographs is currently being used by our zoological team to mix concrete as part of the re-development of one of our display tanks. It was the most convenient location to carry out this work due to its accessibility to the display," he said.
"At the rear of the area there are also a number of older barriers and panels which have been replaced by new ones and were awaiting disposal.
"These should have been cleared away earlier but, due to unforeseen circumstances, they were not.
He said the work was now continuing in an area not visible to the public.
He added:  "Our handyman has now also removed these in preparation for them to be disposed of responsibly.
"All of the items in this area are actually indicative of new features and ongoing reinvestment taking place here at Deep Sea World.
"However they are clearly not providing the correct impression to visitors and for that we apologise."