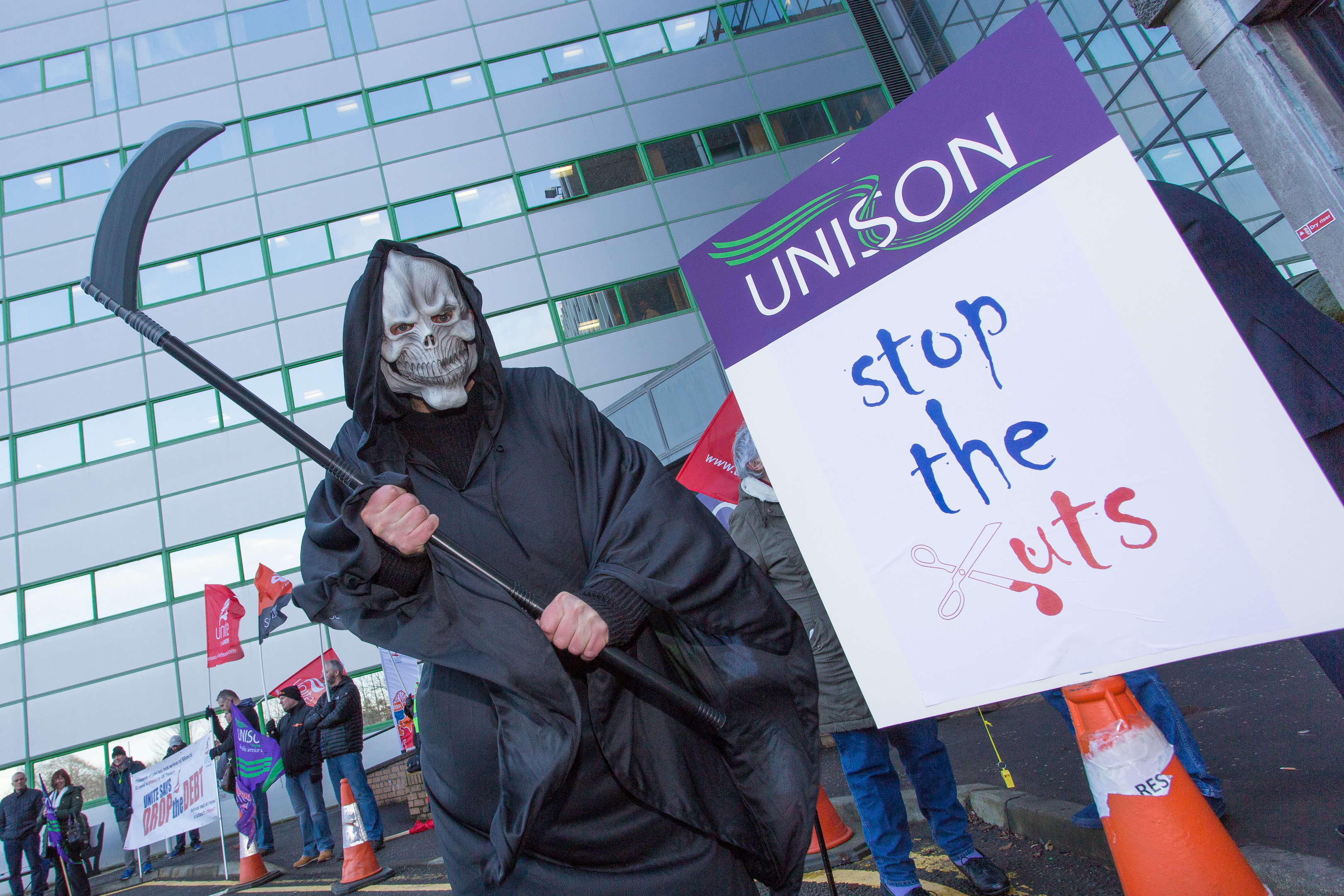 Protesters demanded investment not cuts as Fife Council met to set its budget for the coming year with a £19 million black hole.
Gathered on the steps of the local authority's Fife House headquarters, trade unions and the Fife People's Assembly campaigned against austerity and warned of the "massive" impact of cuts on every single person in the region.
Tam Kirby, of Fife People's Assembly, said councillors should be celebrating additional investment, with the Scottish Government's announcement of an additional £400 million for local government, not deciding where the axe should fall.
He said: "If there is £400m extra, why are we passing £15m cuts this year in Fife, why are councils all over Scotland having to use reserves?
"When you are setting a budget, the first thing you ask yourself shouldn't be 'what can our communities do without this year?', because that's what happens every year.
"What can we cut? What jobs don't we need?
"We need everything, we need investment."
Debbie Thompson, UNISON Fife branch secretary, said cuts which she compared to those of the Thatcher era would do "long lasting damage to the people of Fife for generations to come".
She said: "Across Scotland there will be thousands of job losses, staff pay and conditions will be attacked and fewer employees will be expected to do more.
"The effect on local communities will fundamentally change the fabric of society in Fife, quite possibly to the same levels as happened during Thatcher's tyranny.
"Whilst invariably these cuts will impact most on the vulnerable in our communities, old and young alike, they go beyond the traditional stigmatised categories.
"Make no mistake, these cuts will impact on every single one of us across Fife."
She pleaded on behalf of the council's 18,000 employees to councillors to protect communities, public services, and jobs, terms and conditions.
Protesters were warned by council leader Councillor David Ross that job and service cuts were inevitable.
Blaming the council tax freeze and governments in Westminster and Holyrood for the tough decisions to be made, he said local authorities across Scotland faced deep financial challenges.
He said: "Our grant has been cut and cut again, the council tax freeze has been in place for nine years.
"If we had been allowed to raise it [council tax] by even one per cent over that nine year period we wouldn't be in the mess we have today.
"Demand for services is growing year on year.
"We are doing our very best in difficult circumstances to make the savings that don't impact on front line services, that don't impact on jobs, but with the level of cuts we have had in our budget some impact on those services and jobs is inevitable."