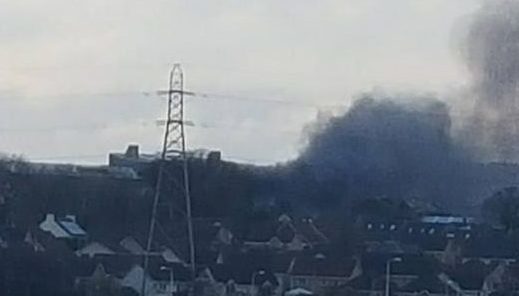 Police say they are following a "positive line of inquiry" after launching an investigation into a fire at a Dunfermline farm.
Fire crews were at the derelict South Fod Farm on Friday, almost 24 hours after a huge blaze ripped through a barn at the site, near Linburn Road.
Members of the public were warned to remain indoors during the fire, with the building said to be full of asbestos.
After battling flames throughout the night, the remains of the building were still being dampened down by fire crews as police started to look into the cause of the blaze.
A statement from Police Scotland said: "We can confirm that a fire at a derelict farm in Linburn Road, Dunfermline, has been extinguished.
"The incident was reported around 4pm on Thursday, February 16.
"We attended and due to the nature of the blaze, a public safety message was issued advising the public to stay indoors with windows closed when possible.
"This is now cancelled and there is no ongoing risk to the public.
"We would like to thank those in the Linburn Road area for their patience throughout this time.
"An investigation is now ongoing regarding the cause of the fire and officers are following a positive of inquiry."