The kingdom of Fife will play a starring role in a new movie directed by Sir Sean Connery's son.
Tommy's Honour tells the story of golfing legend Old Tom Morris and his relationship with son Tommy, who incredibly matched his father's four Open victories before his death at the age of 24.
But while it features some well-known names, including Scots actor Peter Mullan as Old Tom, as well as Jurassic Park star Sam Neill and Ophelia Lovibond from Guardians of the Galaxy, they are almost overshadowed by some of Fife's most stunning vistas.
Directed by Jason Connery, the Scottish BAFTA-winning film was shot at the home of golf in St Andrews and the surrounding area.
Balcarres near Colinsburgh doubled as the Old Course of the late 1800s, and other scenes were shot in Falkland.
A new half hour behind the scenes feature film explains why filming it locally was so important.
Mullan, who starred in Sunshine on Leith, said: "We could shoot somewhere else but we would never capture this.
"I've been blown away by how incredibly different and utterly beautiful the light is."
He added: "For a film like this, you need to film it in Scotland.
"This town alone (St Andrews) gives you so much more than you would ever get on a film set."
Connery explained that the modern-day Old Course was too manicured to be believable for the 1800s so the action was switched to Balcarres.
Half of a replica Royal and Ancient golf club was built in a field and the other half was created using special visual effects.
Tommy's Honour may be about golf but it also tells the story of the father-son relationship, class struggle and the love of a game.
It was given a largely positive reception from critics at its world premiere at the Edinburgh International Film Festival last year.
It has been given a release date of April 14 in the United States and will be released internationally sometime later in the spring.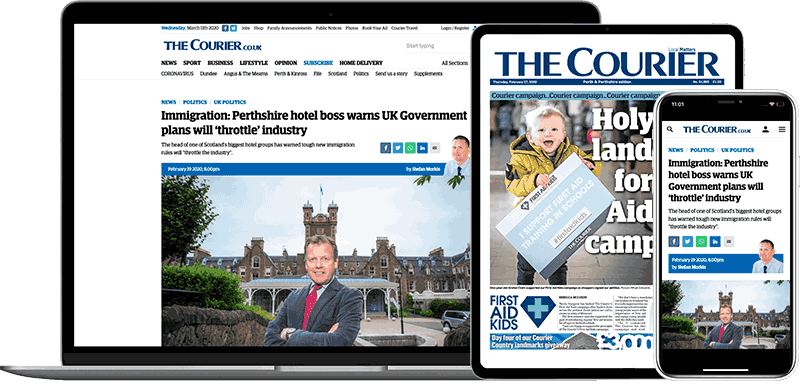 Help support quality local journalism … become a digital subscriber to The Courier
For as little as £5.99 a month you can access all of our content, including Premium articles.
Subscribe