It took just 45 minutes to obliterate the last relic of Falkland's century of industrial heritage.
The 130ft chimney of St John's Works was knocked down chunk by chunk, changing forever the royal burgh's skyline.
Crowds gathered to watch the historic moment on Wednesday morning as a demolition machine smashed the last building left of the factory which produced floor cloth, linoleum and latterly paper bags.
Local schoolchildren were among the spectators, cheering as huge sections of brickwork crashed to the ground.
Also watching was David Verden-Smith who bought the factory almost 50 years ago for £4,000 with his late brother William.
Until 2011 almost 200 people were employed at the works, still owned by paper maker Smith Anderson.
Mr Verden-Smith said: "I am sad to see the whole factory demolished.
"It was a really good factory and we had a very good workforce there."
The demolition follows concerns about the safety of youngsters reported to have entered the abandoned factory and it is expected the site will go on the market in the early summer for housing.
Michael Longstaffe, chief executive of Kirkcaldy-based Smith Anderson, said: "It's a sad day, but it's all progress.
"It's the final part of the factory to come down, but it was necessary, because of the state of the site.
"We had to make sure the site, but more importantly the local community, were well looked after and there were some issues with people treating it like an adventure playground."
Howe of Fife and Tay Coast councillor David MacDiarmid, who lives in Falkland, said: "It is sad to see my old friend go but it was great that all the kids were here to see it.
"It is a piece of history, 100 years of industrial heritage being torn down to make way for houses."
Central Demolition took most of the chimney down using a high reach machine in just 45 minutes.
Another machine was used to reduce the remainder of the tower to rubble.
The older part of the factory was built in 1919 to make floor cloth and extended in 1933 for linoleum production.
It was owned by the Scottish Wholesale Cooperative Society until 1968.
A meeting is to be held in Falkland Community Hall on Sunday April 9, starting at 2pm, to discuss the future of the Well Brae site.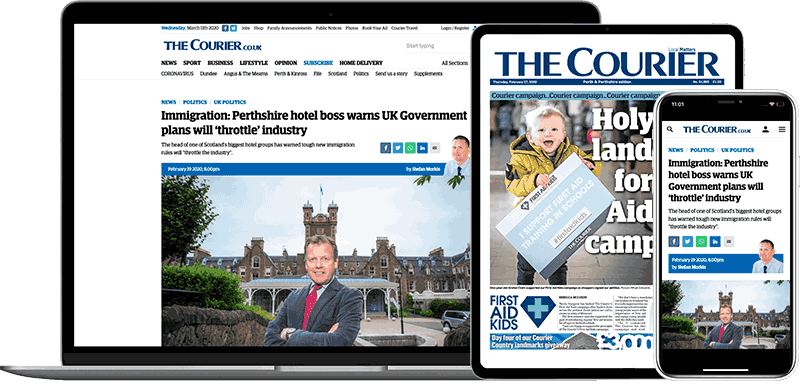 Help support quality local journalism … become a digital subscriber to The Courier
For as little as £5.99 a month you can access all of our content, including Premium articles.
Subscribe