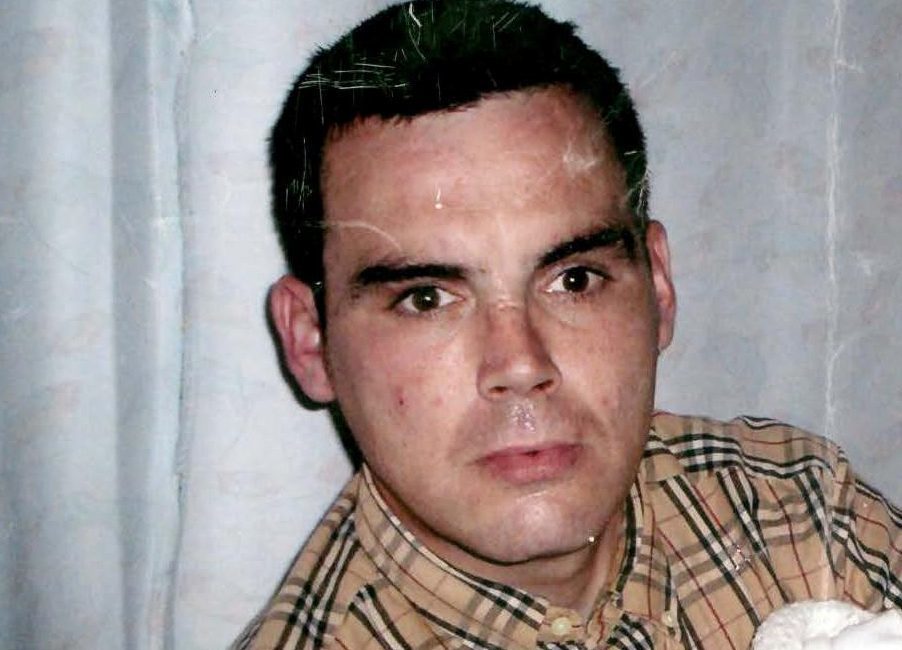 A Kirkcaldy man accused of murdering Darren Adie threatened to "do" the father-of-two in the days before his death, the High Court in Dunfermline has heard.
Gordon Coventry, 52, stands accused of killing Mr Adie by striking him repeatedly on the body with a knife or similar implement in Spey Avenue on May 28 last year.
Coventry denies murder and has lodged a special defence claiming self-defence.
Coventry is further charged with assaulting Mr Adie by throwing stones at him and having scissors in his possession on May 7 in Overton Mains, and being concerned in the supply of cannabis and cannabis resin between January 1 and June 13 2016.
David Taylor, a former friend of the accused, said he been going to visit Coventry at his home in Overton Mains weeks prior to Mr Adie's death and had been aware of Mr Adie walking behind him, drunk and "mumbling to himself".
As he reached the house, Mr Taylor said Coventry ran out and appeared to reach for something in his waistband, before throwing stones in Mr Adie's direction.
Mr Adie had been "oblivious" to this, Mr Taylor told the court, and carried on his way.
But when he asked Coventry what had caused his reaction, Mr Taylor claimed Coventry had described Mr Adie as a "beast" and called him a "grass".
Mr Taylor then alleged Coventry had told him a few days later: "See that Darren Adie? I'm going to…do him."
Evidence led by advocate depute Niven Smith suggested that Coventry may have changed his mobile phone number sometime around May 28 or 29.
Indeed, the court heard Coventry visited Mr Taylor on May 30 and told him: "You wouldn't believe it but I've lost my three phones."
CCTV footage from a shop in Livingston, dated May 29, was then played to the jury which showed Coventry appearing to buy something over the counter.
Defence solicitor Gordon Martin pointed out that Mr Taylor had not referred to the threats in an earlier statement given to police and accused Mr Taylor of making his evidence up to ensure Coventry stayed in custody.
Mr Martin went on to allege that he and the accused had been involved in a failed cannabis growing enterprise and that he owed Coventry thousands of pounds as a result.
"That's a lot of nonsense," Mr Taylor responded.
"I've no reason to make it up."
Giving evidence via video link, Thomas McGregor, 45, told the court he saw Mr Adie twice on the evening he died, firstly on Overton Road before later seeing him again talking to a man on the other side of the road on Spey Avenue — just yards from where he was found dying in Tweed Avenue — at around 6.45pm.
Mr McGregor, who had been driving to his brother's house, said Mr Adie appeared to be shouting and "waving his hands", but couldn't hear what was being said.
Mr McGregor pinpointed Coventry as the man in Mr Adie's company in a subsequent identity parade.
The court then heard that Paul McMartin, 44, had received a phone call from at 7.11pm from Coventry on the evening of May 28, although Mr McMartin insisted he could remember "very little" about what was said as it was the day of the Champions League final and he had been drinking.
However, a statement Mr McMartin gave to police suggested that Coventry had told him he had been in "some kind of barney", or words to that effect, during the call.
Detective Constable Douglas Moyes, 37, revealed that he had gone to interview Coventry not as a suspect but as a possible witness at his father's house, and found him to be "extremely nervous" throughout.
Coventry gave Mr Moyes his mobile phone number when requested to do so, but Mr Moyes said he refused to provide a witness statement or hand over his phone.
"He had difficulty speaking, he had a dry mouth and was licking his lips," Mr Moyes added.
"He was agitated and was clenching his fingers a lot."
The court had earlier heard from Mr Adie's friend Amanda McMahon, who conceded under cross-examination from Mr Martin that Mr Adie could be "sometimes aggressive" when drunk and had been in a "paranoid state" at the time of his death due to people saying things about him behind his back.
Mr Martin also asked if Mr Adie was the sort of man who would pester people for money in the street.
To which Miss McMahon replied: "He would ask people for money but if you said no to Darren he was fine. With me he was always fine."
The case before Lord Uist continues.