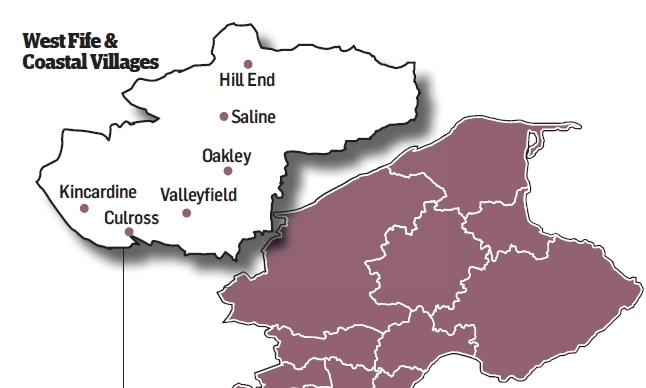 Regeneration is most certainly the name of the game for the West Fife and
Coastal Villages ward.
The small villages and towns which make up the sprawling western gateway
to the kingdom are still trying to pick themselves up after the closure of
Longannet Power Station.
When ScottishPower closed the massive coal-fired power station little
over a year ago it came at the price of 230 direct jobs and an estimated 1,000
indirect jobs.
And at a cost of £50 million a year to the local economy.
A further blow came when the Scottish Government failed to finance
the £9 million the task force was relying upon to mitigate the impact.
Only now, a year on, are the green shoots of regeneration starting to
emerge, with funding for charrettes and for community groups in an
attempt to breathe new life into the area.
Connected to the power station's demise is the need for new business
units, especially for smaller enterprises and startup businesses.
There are also calls for improved public transport connections from the
villages into Fife and also to other areas in the central belt.
Efforts are being made to expand the Stirling Alloa Kincardine rail link –
which had only carried freight to Longannet – for both passenger and
freight.
Back in 2012 the ward, with an electorate of 14,508, returned two
Labour, one SNP and one Independent councillor. But Labour's Alice
Callaghan and popular independent Willie Ferguson are not seeking
re-election this time around.
---
Candidate profiles
The Courier invited each candidate to submit a short introduction to themselves and, if they wished, a video explaining why they deserve your vote.
Aude Boubaker-Calder (Lib Dem)
The West Fife and Coastal Villages candidate for the Scottish Liberal Democrats is Aude Boubaker-Calder.
After moving from Belgium to live with her Scottish husband, Aude joined the Liberal Democrats due to their commitment to fairness and equality.
This commitment led her to becoming a council candidate.
She wants to help and support the residents of the villages of west Fife in a number of ways.
This includes greater support for education locally, including concerned parents over catchment area changes.
Aude also will fight to see better accessibility for all, an improved public transport provision and mainly focus on the needs of people locally.
Martin Keatings (independent)
Independent candidate Martin Keatings said: "As someone with a disability and as someone who carers for another, I understand the true meaning of adversity.
"I have chosen to face that by dedicating my time to helping others as a layman, representing them in everything from DWP to helping them navigate legal matters.
"My perspective comes from my own personal experiences of being beside people during the hard times in their lives."
He added that as an independent, he has the opportunity to vote for his constituents each and every time without being weighed down by party politics.
"I seek no more than to take a lifetime of skills garnered through working with Scotland's most vulnerable and apply them to help those I would represent and hope that west Fife and the coastal villages would support me in that aim."
Kate Stewart (SNP)
Seeking re-election for the SNP is Kate Stewart, who has served the area since 2012.
She said: "I've lived in the west Fife villages area all my life. I'm married with two children and four grandchildren.
"I formerly worked with Fife Council for nearly 30 years as a community education worker."
She said she continued to use these skills as a member of a local heritage project and provide support to a fused glass class.
Ms Stewart said her two main achievements since being elected in May 2012 were to campaign for council houses in Oakley, with 25 now planned, and requesting a review of historic agreements, resulting in potential savings of more than £1 million.
"I'll always respond to the needs of local people," she added.
Jeroen Van Leeuwen (Scottish Green Party)
"My name sounds about as Dutch as possible yet I consider myself an import Scot, said Jeroen van Leeuwen, the Scottish Green candidate.
"I have chosen Scotland as my country and will do everything I can to make it the best place possible.
"I believe that standing for local government as member of the Greens is one way to do just that."
He has previously been a Dutch Greens local  government candidate.
"My experience is broader than just politics, I am a social worker and proud of the positive difference I could make in the lives of others.
"Under the austerity measures low earners have had to endure much.
"Those on benefits, especially the disabled, have arguably suffered the most.
"While much of that needs to be addressed at different levels of government this doesn't mean it's all outside the remit of Fife Council," he said.
Mino Manekshaw (Conservative)
Mino Manekshaw is  a married 61-year-old, long-time resident of North Queensferry who was schooled in Dundee with higher education both in Glasgow and in Edinburgh
He is a a professional engineer, manager and marketeer who has worked in the defence electronics sector for almost 40 years until his early retirement in April 2015.
"In addition to this, I served as an officer in Her Majesty's Royal Naval Reserve for 21 years up until the 1993 defence cuts and the decommissioning of HMS Claverhouse, in Edinburgh, in 1994," he said.
Mr Manekshaw has two grown-up children, both in senior professional positions who now live and work south of the border.
"My interests are varied and include singing in a choir, all kinds of technology, my Mazda MX-5,  travelling to new places and meeting new and interesting people."
Willie Gavin (SNP)
SNP candidate Willie Gavin has lived in the local area for more than 30 years since he married his wife Lesley.
The couple has raised three children here.
Currently he works as a science teacher, a job he has done for 20 years.
"I am well aware of the local issues such as the closure of Longannet and the impact this has had, highlighting again the need for a much improved public transport system in our area to enable people to travel to larger towns to access amenities, work, education and public services.
"My commitment is to listen and represent all my constituents to the best of my ability if elected," he said.
Bobby Clelland (Labour)
Bobby Clelland has been a Labour councillor for the west Fife villages for 10 years.
Mr Clelland, a former miner, is married to Carol and lives in Oakley where they raised their four sons.
He has been involved in a number of local projects including the Blairhall Gala Committee and local football teams.
He is commited to working on local issues, alongside the many local groups and volunteers in the villages to bring about real improvement and support community activity.
He has worked hard to help hundreds of people in the villages with issues they have raised with him.
Suzanne Davies (Labour)
Ms Davies grew up in Steelend, and now lives with her husband and four-year-old son in Carnock.
Previously, she worked for former Dunfermline and West Fife village MSP Cara Hilton where she helped constituents on a daily basis, and worked on a number of local campaigns including Save Longannet Power Station and fighting against Stagecoach cuts to bus services.
Ms Davies now works locally as an events manager at an historic venue.
The Labour candidate is actively involved in local initiatives throughout the west Fife villages, such as the Carnock and Gowkhall gala committee.
She said she would relish the opportunity to be a voice for the west Fife villages on Fife Council.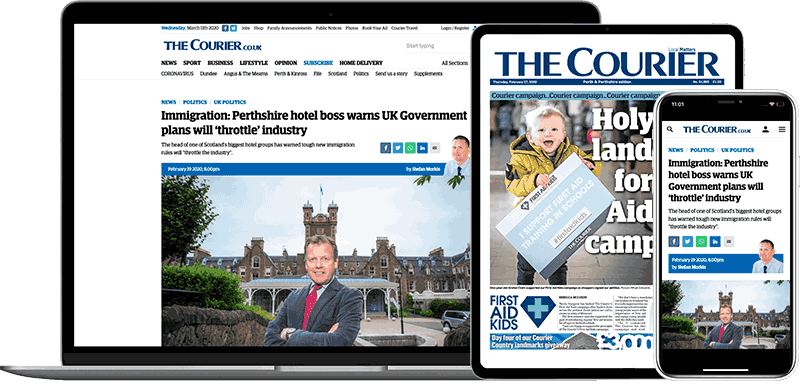 Help support quality local journalism … become a digital subscriber to The Courier
For as little as £5.99 a month you can access all of our content, including Premium articles.
Subscribe