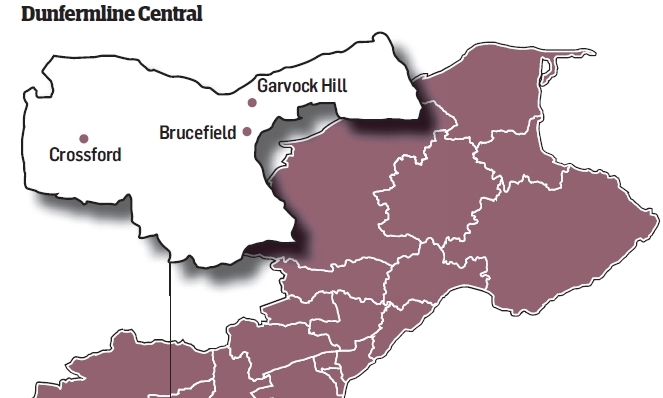 Breathing new life into the heart of town will be a key priority for those selected to represent Dunfermline Central.
Like town centres the length and breadth of the country, Dunfermline has seen a dramatic downturn in fortunes in recent years.
The rise of online shopping – Amazon's vast fulfilment centre is on the periphery of town – as well as the recession have been blamed for rows of empty shops where once there were town centres bustling with visitors.
Added to that is the rise of out of town shopping centres. Controversially, the Town Centre First principle was cast aside recently as a major expansion to Halbeath retail park was given the green light.
Many felt it was another nail in the coffin Scotland's ancient capital which also failed to lure Fife College's new campus to a town centre location last year.
Another priority will be to capitalise on the town's unique place in Scottish history.
A report last year highlighted the lack of joined up thinking among the organisations which safeguard its heritage quarter.
With its new £12 million Dunfermline Carnegie Library and Galleries due to open in May, it is hoped the town will see an influx of visitors, and a change in fortune.
The ward currently has two Labour, one SNP and one Lib Dem member.
Labour veteran Bob Young is standing down, leaving the charismatic Fife Provost Jim Leishman to run alongside newcomer Garry Haldane
For the SNP, Neale Hanvey has recently been selected as Fife group leader while the Lib Dem's Joe Rosiejak is stepping down.
.
---
Candidate profiles
The Courier invited each candidate to submit a short introduction to themselves and, if they wished, a video explaining why they deserve your vote.
Alan Craig (Conservative)
For the past 30 years Mr Craig has lived locally in Cairneyhill, having previously resided in Crossford.
As a child he was raised in the Woodmill area, attending Blacklaw primary and Woodmill Junior High schools.
He was self employed from 1976 until 2015, providing architectural services to private clients and small developers.
On a voluntary basis he was also the secretary and managing director of Scottish Snooker, the governing body for the game in Scotland.
Joining the Scottish Conservative & Unionist party in November 2015, Mr Craig was a latecomer to active politics, inspired by the desire to keep Scotland in the UK union, and Ruth Davidson's determination to be a strong opposition to the SNP.
Garry Haldane (Labour)
Garry Haldane is a local postman in Dunfermline Central, and has worked in the job for 21 years.
He was previously in the Royal Navy where he served for 19 years, 15 of them in the submarine service, and served on HMS Conqueror during the Falklands war in 1982.
He is a Communication Workers Union representative and the sub-area representative for FK/KY postcodes.
Selected to stand after Bob Young chose not to stand at this election, he said he hoped to be a voice for all in Dunfermline Central alongside his ward running mate, Jim Leishman.
Jean Hall Muir (SNP)
For the past nine years, Jean Hall Muir said she has had the privilege of calling Dunfermline home.
As a former heritage professional, she is not only in awe of the richness of Dunfermline's historic offering but also of the "world class parks and exciting new creative endeavours in the town".
However, she said she has also worked to address the frustrations in the area such as overcrowding in the school, and under performance of the High Street.
As chairwoman of her community council, she participated in several area improvements such as the Calais Muir Wood, funding for green gym equipment in Duloch Park and the installation of Christmas lights on Greenshanks Drive.
Neale Hanvey (SNP)
SNP candidate Neale Hanvey lives in central Dunfermline with his family.
"My background is in the NHS, where I worked as a cancer nurse.
"I have a strong work ethic and a commitment to public service," he said.
He said that being the councillor for Dunfermline Central since 2012 has been deeply rewarding, working with his community, and standing up for his constituents on many issues like the impacts of the Dunfermline Flood Prevention Scheme, helping promote road safety, and supporting many with health and housing needs.
"As SNP group leader I give you my commitment to put our communities at the heart of decision making in Fife," he added.
Doug Hay (independent)
Doug Hay is standing as an independent.
He has lived in Crossford for almost 30 years, having lived in Rosyth and Dunfermline since 1980 after graduating from the University of St Andrews.
Along with wife Alison and their two sons, they have been enthusiastic participants in village life.
"I am a carer for my sister, and am well aware of the issues that can arise," he said.
He has spent almost 25 years serving on Crossford Community Council.
One of the main initiatives carried out during that time was the establishment of CREATE, a group of residents which organised enhancements to parks and play areas.
He started work life at Marconi Space & Defence in Dalgety Bay and for the past 15 years he has run a software and telecoms company.
Deek Jackson (independent)
Born in Dunfermline in 1964, independent candidate Deek Jackson attended Pitcorthie Primary and Woodmill High then served an apprenticeship in Rosyth dockyard.
He spent 10 years working as a musician, playing in Scotland, the UK and Europe, before studying TV production in Edinburgh.
After college he moved back to Dunfermline, starting a family and his own business in IT and multimedia.
For a time he worked as a consultant in the City of London as well as doing freelance work for Scotsman publications and Channel 4.
"I raised my family in Dunfermline and have worked for many local businesses and community groups," he said.
"I skinned my knees in the Glen, grew up in the town and have always called Dunfermline my home.
"I still make music and regularly busk the High Street.
"I've lived a life here and have a bit to go yet, which is great."
Lauren Jones (Lib Dem)
Lauren Jones is the Scottish Liberal Democrat candidate for Dunfermline Central.
She has recently become a mother for the first time to five-month-old Elsie and is standing to make a difference to the local area.
She is keen to combat littering and dog fouling especially, and wants to fight for better mental health provision in the area.
She also wants to take action on the recent schools crisis in Dunfermline regarding catchment areas and make sure the next generation of Fifers are getting the world class education that they deserve.
Jim Leishman (Labour)
From humble beginnings in Lochgelly, Mr Leishman started his career as a professional footballer with Dunfermline Athletic in 1970.
When his playing career was cut short by injury, he moved into coaching and then management, proving to be highly successful in the latter and achieving promotion for the Pars from bottom of the Second Division to the Scottish Premier Division.
He is also well known for his charity work and the Mary Leishman Foundation, started in memory of his late wife, raises many thousands of pounds for local causes.
Over the years he has received many honours, including an MBE, Great Scot award and a Fellow of Carnegie College.
He also has a street named after him in Dunfermline, received a lifetime achievement Aaward and was voted Scottish Sports Personality of the Year.
In 2012 he was elected as councillor for Dunfermline Central and two weeks later, as Provost.
Kerstin Romano (Scottish Green Party)
Kerstin Romano, the Scottish Green candidate, has lived in west Fife for the last 16 years with her husband and daughter, having moved to Scotland from her native Germany in 1998.
She works as a dispensing assistant at a pharmacy in Alloa and has been a member of the Scottish Greens for several years now.
She said: "I am passionate about local politics and believe people should have the powers to improve their lives and their local communities.
"The past few years has seen the centre of Dunfermline go through a downturn and we need fresh, new ideas to create the changes that are needed.
"To achieve this I believe we need to divert more power to where it belongs, that is, the hands of the local communities and residents.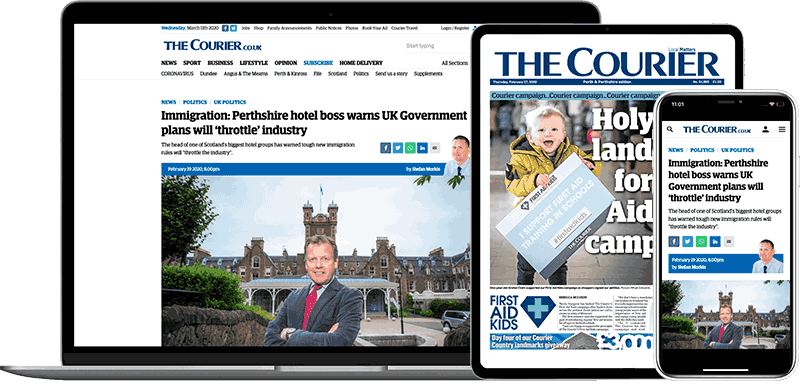 Help support quality local journalism … become a digital subscriber to The Courier
For as little as £5.99 a month you can access all of our content, including Premium articles.
Subscribe