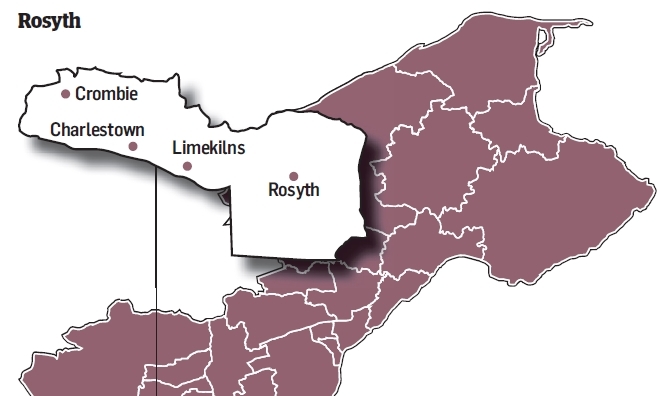 Rosyth is currently home to two of the largest construction projects in
Europe.
But there are fears of a possible downturn in the local economy after
they are complete.
Thousands of workers are currently employed on the Queensferry Crossing
and on assembling the two aircraft carriers – the largest warships ever
built for the Royal Navy.
While many workers are not local, there are fears the completion of both
contracts may hit the economy.
That would be on top of the loss of Longannet power station in the
neighbouring west Fife and Coastal Villages ward.
Another major issue is the development of Rosyth Waterfront.
The Scarborough Muir Group has a £500 million plan to develop the area
into a mixture of retail, housing, industry and leisure quarters.
But the proposal, which could generate 5,000 jobs, was dealt a massive blow recently.
The developer and Fife Council have been at loggerheads ever since over the
Scottish Government reporter's decision recommended the land should be earmarked solely for employment use.
Another issue that could be raised on the doorsteps is the need for a bypass.
This long standing issue came to the forefront again during 2015's sudden
closure of the Forth Road Bridge.
Last time around two Labour and one SNP candidate was elected.
The SNP's Douglas Chapman stepped aside when he became MP in
the 2015 General Election.
Sharon Wilson held the seat for the party in a by-election later that year.
Labour veteran Pat Callaghan is stepping down while Mike Shirkie, who
has represented the area for Labour, is
now standing as an independent.
---
Candidate profiles
The Courier invited each candidate to submit a short introduction to themselves and, if they wished, a video explaining why they deserve your vote.
Wendy Chamberlain (Lib Dem)
The Scottish Lib Dem candidate Wendy Chamberlain has lived in
Limekilns, in the ward, for more than 10 years with her husband and two
children.
After university, she was a police officer for 12 years, working across a
variety of functions.
"I spent a year as a communications lecturer at Fife College. I then moved to MoD Caledonia, supporting service personnel leaving the forces into employment,"she said.
She now works across Scotland for a major drinks manufacturer.
"I only became involved in politics two years ago, but I've always been
community minded"
Steven Leckie (independent)
Independent candidate Steven Leckie is the creative director of What's Happening Community Projects, which runs What's Happening Rosyth?
He has lived in Rosyth for the last 10 years and has been a member of Rosyth Community Council for the last five years.
He is also a member of the Take A Pride in Rosyth group, which has helped bring amenities to the town.
"The main reason I am standing as councillor is to try and bring the waterfront development to Rosyth as I believe it will bring jobs investment and amenities to the town."
Alastair Macintyre (independent)
Alastair Macintyre, 38, is standing as an independent candidate.
He has stood on three occasions in this ward before, once under the UKIP banner, and this is now his second time standing as an independent after disagreeing with the direction that UKIP in Scotland was taking.
He has lived in the ward for around 11 years.
Mr Macintyre works as a gardener/horticulturist.
"I also suffer from a mild autistic spectrum condition and this is partly a reason for
standing and being involved in politics as I am concerned at the treatment of people with disabilities and would like to help them," he said.
Fiona McOwan (Green)
Fiona McOwan has lived in west Fife in the Rosyth ward for more than 25
years and has worked in Fife for 10 of these.
"My two children were born, raised and educated here," she said.
"I have played an active part in campaigning for the Scottish Green party in Westminster and Scottish Parliament elections and am delighted to have been selected as the candidate for the Rosyth ward in the forthcoming local authority elections."
She said she was particularly interested in more local decision making, particularly on education, culture, planning, transport and housing, all services
provided by the council.
Tony Orton (Conservative)
Tony Orton was born and educated in Portsmouth and joined the RAF from
school and served for 22 years, 18 years as a pilot and flying instructor.
He retired from FlyBe (Edinburgh) in 2011 after 27 years in civil aviation.
"Glynis, a Scots lass from Lossiemouth, and I have two sons, Adrian and
Grant, born in Elgin and Aberdeen, respectively.
"I have lived in Scotland for most of 45 years, 16 years in Fife, 12 years in Crombie," he said.
Since retiring, he has worked with Fife Council on the former Crombie Community Council and as secretary and vice-chairman of Crombie
Residents' Association.
Mike Shirkie (independent)
Mike Shirkie, standing as an independent, said: "It has been a privilege
to serve our local community as a previous chairperson of Rosyth Community Council and as a Fife councillor for the past five years.
"I also have broad management experience across both the public and private sector, including serving at DM Crombie and Rosyth Dockyard."
He wants to be a strong voice for the local communities and not be beholden to any political party.
"I have a proven track record working with various community groups.
"Improving the quality of life across all our communities will be my prime objective."
Samantha Steele (SNP)
SNP candidate Samantha Steel was born and brought up in Rosyth,
raised her three children here, and has lived in the ward nearly all of her life.
She worked as a learning disabilities nurse and as a midwife in NHS Fife for more than 25 years and said she is an enthusiastic community activist, volunteering in various projects such as the Rosyth community garden and hub, west Fife WASPI campaign and local animal and environmental charities.
"I am fully aware of current local issues and challenges such as Rosyth waterfront, and, if elected, I commit to being an accessible representative
and advocate for all our residents," she said.
Andrew Verrechia (Labour)
Andrew Verrecchia lives locally with his wife Sam and teenage son Matthew.
He has worked in the NHS all his life and currently works for NHS Fife.
A committed trade unionist, he is a branch secretary for public service union Unison.
Mr Verrecchia said he is standing for the council because he believes that councils are a real force for change in our communities.
He is determined to protect local services from SNP and Tory cuts and always stands up for the issues that really matter to local people and the local community, he added.
Sharon Wilson (SNP)
Councillor Sharon Wilson was elected to represent Rosyth ward at
the by-election in 2015.
She lives in Rosyth and cut her teeth as a community activist, starting
the popular market, volunteering at the local foodbank and sitting on
the community council.
Since being elected she said she has campaigned for many community issues such as a pedestrian crossing for schoolchildren, championing women against state pension inequality and protecting the town's bus services.
She said her community and the SNP are at the heart of all she does and she is committed to protecting her constituents from austerity.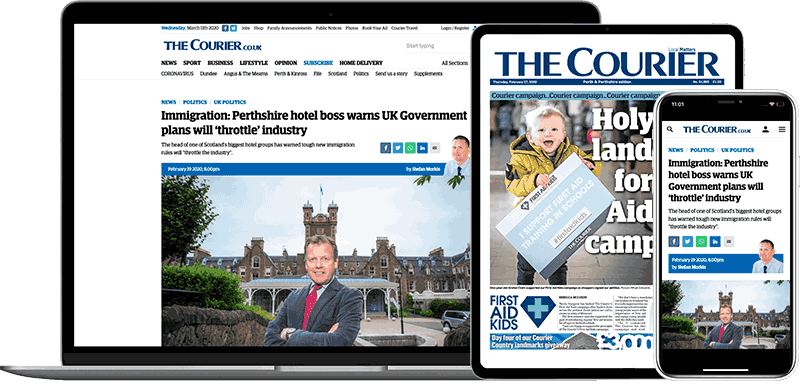 Help support quality local journalism … become a digital subscriber to The Courier
For as little as £5.99 a month you can access all of our content, including Premium articles.
Subscribe