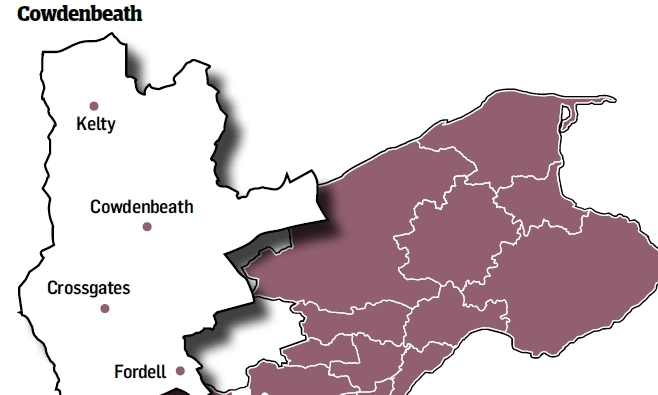 What was once a Labour heartland is now seeing a rise in support for the SNP, with Annabelle Ewing scoring a shock victory in last year's Scottish Parliament elections.
Taking in Cowdenbeath, Kelty and Crossgates, the ward is still suffering from an economic hangover following the demise of the coal industry.
It is an area with high levels of deprivation. More than a quarter of children in Cowdenbeath live in poverty and the area's unemployment rate is around 14%.
Issues affecting local people include lack of opportunities for young people and access to social housing.
The current council administration has been keen to publicise its commitment to building new affordable homes, with projects recently completed in Cowdenbeath and Kelty.
Successful candidates will be charged with promoting the area's regeneration at a time when public finances are being stretched.
An action plan set out for the area in recent years identified raising young people's aspirations, consultation with communities and transport links as urgent priorities.
One sad reflection of the climate we live in is the projects aimed at tackling inequality listed on the plan.
These include breakfast clubs for children, food banks and credit unions, as a result of the struggle many people are facing in meeting the basic need of feeding themselves.
Former Cowdenbeath area  chairman Willie Clarke, who has since stepped down after more than four decades in local politics, said progress would rely on the public sector working with voluntary organisations and private companies.
---
Candidate profiles
The Courier invited each candidate to submit a short introduction to themselves and, if they wished, a video explaining why they deserve your vote.
Alistair Bain (SNP)
Alistair Bain has been the SNP councillor for Cowdenbeath over the
last 10 years.
He said: "I believe the Cowdenbeath ward has been poorly served for far
too long.
"Plans that had been in place for years not being brought to fruition.
"Other planned projects running late, or decisions taken and then changed.
"I want to see real consultation with all the communities within the Cowdenbeath ward. We need meaningful discussions to help move Cowdenbeath forward and improve all our local amenities.
"As long as I remain an SNP councillor I will always listen to the people of Cowdenbeath and Fife."
Ann Bain (SNP)
Ann Bain has lived in Kelty for 29 years. She was first elected to the Lochs ward in 2007.
This time Ann will be standing as part of Team Bain for Cowdenbeath along with her husband Alistair.
She said: "I believe Cowdenbeath ward requires consultation in all our communities to allow us to move forward."
She added: "I am the SNP spokesperson for Fairer Fife and Safer Communities and as such I am passionate about protecting vulnerable people from Tory cuts."
Alex Campbell (Labour)
Alex Campbell lives in his home village of Kelty with his wife and family. He served his apprenticeship locally before he decided, aged 25, to set up his own business in Kelty.
"That business has expanded over the years and continues to provide jobs and services in the local economy," he said.
"I am a hard-working councillor with a passion for helping people and supporting the work of the community council and the local community organisations.
"I want young people to have opportunities and decent work, and believe
that everyone should have a warm, safe home."
Angela Dixon (Green)
Angela Dixon said: "I'm a GP who lives and works in Fife. I have been a member of the Scottish Green Party for over 10 years.
"I support green policies that minimise damage to our planet and try to ensure our descendants have a healthy, beautiful, varied planet to live on.
"I also want to ensure Fife's education system helps all children reach their potential and that our social care system has the resources to support our older and more vulnerable citizens.
"Local sports facilities and adult education and libraries to keep our minds and bodies active are also important to me."
Gary Guichan (Labour)
Gary Guichan said: "It has been an honour to serve the people of the Cowdenbeath ward since May 2014. I joined a hardworking group of Labour
councillors who had spent the previous two years improving Fife after regaining the council from the SNP.
"This has continued in my three years as a councillor, despite facing budget cuts
imposed by the Tory and SNP governments.
"Fife Labour have continued to invest in our communities as witnessed by the care village in Lumphinans, the community centre and destination skatepark
in Stenhouse Street and the 100 new council houses in the ward."
Elizabeth Riches (Lib Dem)
Elizabeth Riches said: "Liberal Democrat councillors have a powerful reputation for getting things done for the areas they represent.
"If elected I will build on the work of former local MP Willie Rennie. I will work hard to provide more local affordable housing, an improvement to Cowdenbeath town centre and cut speeding on local roads.
"Liberal Democrats stand for investment in schools, nurseries and colleges which need more investment to improve standards.
"We support a step change in mental health services which are treated as second class in the NHS. We want to scrap the council tax."
Darren Watt (Conservative)
Darren Watt lives in Cowdenbeath with his wife Laura and the couple's three children.
He said: "We absolutely love this wonderful area. With such a strong community spirit, our lives are enriched and we are much closer as a family.
"I have worked with the public my entire working life, specifically within a community, leisure or sport environment and embrace the positivity a healthy and active lifestyle can bring.
"My other passion is our small online business where I sell a variety of memorabilia and vintage goods."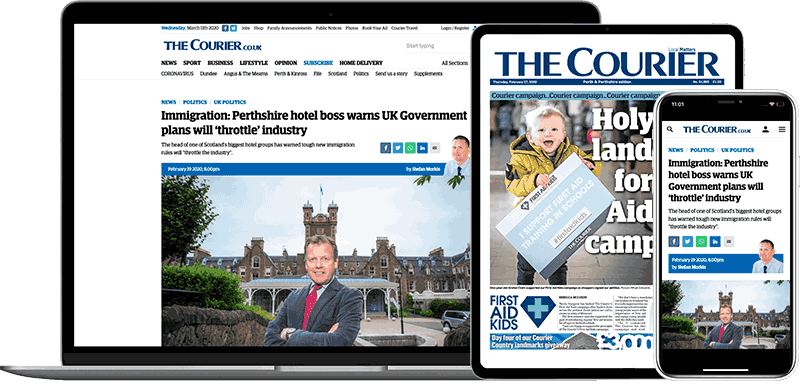 Help support quality local journalism … become a digital subscriber to The Courier
For as little as £5.99 a month you can access all of our content, including Premium articles.
Subscribe