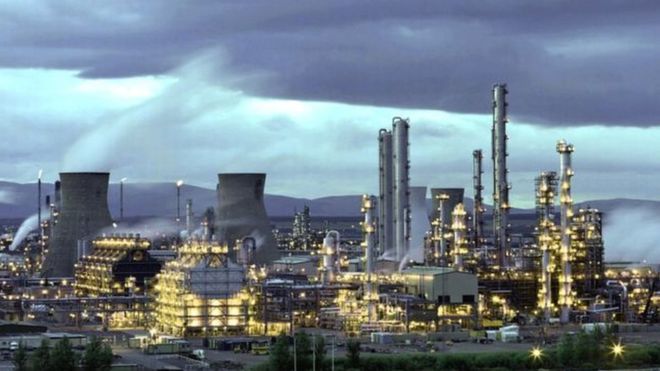 The Scottish Government has been urged to outline its stance on fracking before voters go to the polls, following the sale of a North Sea pipeline.
Fife councillor Tom Adams suspects the Forties Pipeline System could eventually be used by Ineos to support carbon capture and storage (CCS) technology which is considered essential before unconventional oil and gas extraction (UOG) can go ahead.
A £199 million deal by Ineos to buy the system from BP was announced earlier this month.
The pipeline transports around 450,000 barrels of oil a day on average, and links 85 North Sea oil and gas fields to the UK mainland and the Ineos site at Grangemouth.
Ineos holds the exploration licences for UOG around central Scotland, including Fife, but said it was too early to speculate on the CCS opportunities which may exist.
A moratorium was imposed in 2015 on UOG, which includes hydraulic fracking, and the Scottish Government is conducting a public consultation before deciding whether a full ban should be put in place.
An announcement is expected later this year but Mr Adams said: "Fracking is coming and the Scottish Government needs to be open and tell people what's going on instead of hiding behind a moratorium until after the elections.
"They think they are going to get control of the local authorities involved in this, therefore planning applications for fracking will go through much easier."
Experts believe CCS is essential to allow the UK to exploit its shale gas resources in a climate friendly way. When asked whether the pipeline could support CCS, an Ineos spokesperson said: "It is very early days yet.
"The acquisition and transfer of operatorship is targeted to complete in the third quarter of this year, subject to the receipt of regulatory and other third party approvals.
"We have agreed to acquire the FPS to maximise economic recovery from the UKCS (UK Continental Shelf).
"Subject to completion we are confident that under our management we will extend the life of these assets and secure long term employment and investment in central Scotland.
"Until we establish ownership, we couldn't begin to speculate about CCS opportunities that may exist in the future."
The Scottish Government spokesperson said: "The Scottish Government has recognised the concern of local communities in areas affected by those licences awarded, using reserved powers, by UK Government, and Scottish Government has put in place a moratorium on UOG which means that no fracking can take place in Scotland, as no planning applications will be allowed to progress while the moratorium is in force.
"The Scottish Government has taken a cautious, evidence-led approach to unconventional oil and gas.
"In line with the commitment given in the manifesto on which the Scottish Government was elected in May 2016, we have published key research reports on the potential impacts of unconventional oil and gas and a full public consultation on unconventional oil and gas, including fracking and coal bed methane, is now well underway.
"Given the importance of hearing the views of those communities in areas that have been suggested for UOG extraction by UK ministers, such as the densely populated central belt, and to give time for stakeholders to consider and feedback on the evidence we have commissioned, no decision on the future of unconventional oil and gas will be made before the public have had an opportunity to feed in their views to the consultation, and these have been independently analysed."