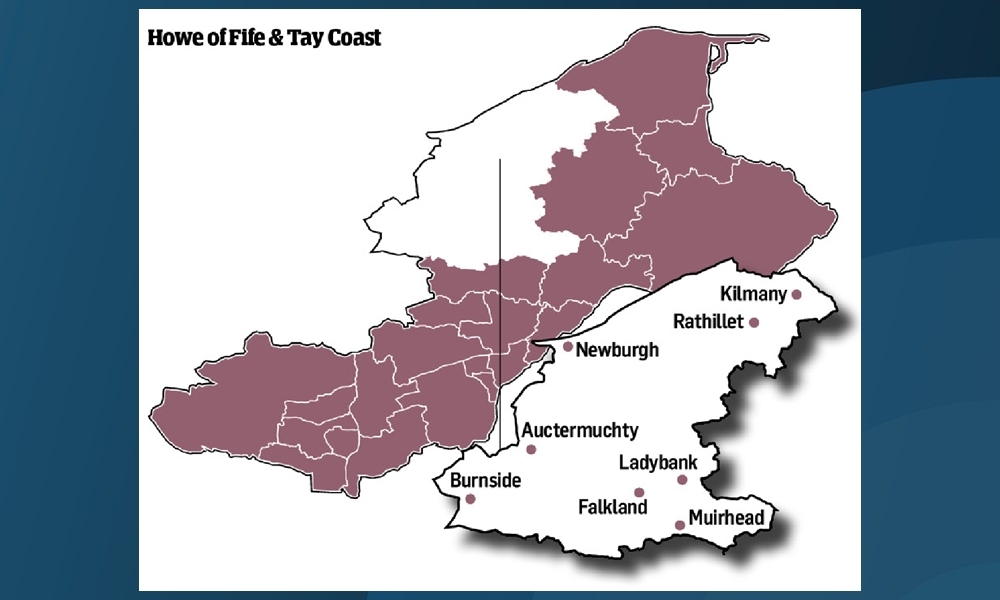 Howe of Fife and Tay Coast is geographically the biggest ward in Fife.
Its largest settlements include Ladybank, Kettlebridge, Falkland, Freuchie and Newburgh and it stretches north-east to Balmerino and Gauldry.
The ward is largely rural, with much of its economy depending on agriculture.
Tourism is also an important contributor to the area which is home to Falkland Palace and will shortly see the launch of Lindores Abbey Distillery.
An issue of concern to residents of the Howe of Fife and Tay Coast is housing development.
There is demand for new and affordable housing in the area, both for people moving to the area and for those who want to continue living in the towns, villages or countryside where they grew up.
But there are concerns about how expansion will affect local infrastructure, services and the environment.
Fife's development plan FifePLAN maps out sites for potential housing development in Auchtermuchty, Newburgh, Falkland and Freuchie.
Transportation is also a key concern, with many inhabitants commuting to work in Dundee, Perth, Edinburgh and elsewhere in Fife.
Newburgh is among the Fife towns campaigning to re-establish lost rail links and pressure continues for road improvements at locations including the A92 at Freuchie.
Howe of Fife and Tay Coast is presently represented by Conservative, Liberal Democrat and SNP councillors.
---
Candidate profiles
The Courier invited each candidate to submit a short introduction to themselves and, if they wished, a video explaining why they deserve your vote.
Jane Freer (independent)
Jane is a retiree studying English literature and creative writing with the Open University.
She said: "I want to use these skills to protect the residents already in place and also to articulate a scheme of commerce to enable the ward to better earn its keep.
"I have lived in Fife for 15 years.
"I accepted nomination to oppose the development that is on the cards for Auchtermuchty. The infrastructure of the village cannot support the proposed development and access through the 'full' housing scheme of Westland Park and the Riggs would shatter the tight but orderly existence that it presently enjoys."
Rosie Grant (Green)
Rosie was born in Fife, moving to the Howe six years ago.
Passionate about environmental issues, she has volunteered on Zero Waste and local food projects.
She intends to focus on #DECENTHOMES – secure, affordable housing – and supporting small, local shops which she said are lifelines to our village communities.
Andy Heer (Conservative)
Andy has lived in Auchtermuchty for 30 years and was a community councillor for over 20 years until he was elected in 2012.
He said: "People right across the Howe of Fife and Newburgh know me well for my involvement in local voluntary organisations and for my reputation for getting things done.
"In my spare time I enjoy walking my dog in our beautiful countryside and attending summer festivals.
"I used to be a computer programmer and website designer but I find that being a councillor is a full-time job if you give it the attention that it properly requires."
Violeta Ilendo (SNP)
Violeta joined the SNP after the referendum in 2014.  She is originally from Poland and moved to Scotland in 2003. Prior to that she lived and worked in London from 1981.
She worked for Fife Council as senior management in economic development between 2003 and 2013. Currently, she is engaged as a volunteer co-ordinator and funding consultant for Deaf Action in Dundee and Edinburgh.
Violeta said: "The areas that I hope to concentrate on as a councillor are broadband issues in rural areas, transport, local high streets and small business development, getting people into jobs, social housing to buy or rent, educational development from nursery to college and environmental issues."
Donald Lothian (Lib Dem)
Donald has been a councillor for 18 years representing the Howe of Fife and Tay Coast.
He grew up in Falkland and lives in Auchtermuchty with his wife. He has worked the public and private sectors and says he has considerable life experience and good judgment.
Donald considers that good quality education, social services, home care, housing, safe communities and attractive public spaces are all important, but in such a rural ward connectivity is vital whether it be the condition of the roads, better public transport, high speed broadband and good mobile phone signal and he will continue to pursue these issues.
David MacDiarmid (SNP)
The most beautiful ward in Fife is the Howe of Fife and Tay Coast. Having said that, it still has challenges like everywhere else.
Since being elected as a councillor 10 years ago, I have managed to tackle some of these challenges head-on.
I have asked the difficult questions that have needed to be asked, I have opened the door and given people in need a voice that otherwise would have been ignored.
365 days a year I have worked on their behalf and, if re-elected, I will continue to put in the shift that the folk of the Howe deserve.
Joshua Osborne (Labour)
Originally from Wales, Joshua relocated to north-east Fife to study at St Andrews University.
Currently finishing his first year of university, he is proud to be Fife Labour's youngest candidate at this year's local elections.
As a keen activist Joshua says he understands the issues that are faced by constituents in Howe of Fife and Tay coast as a rural ward, and would be proud to be an energetic and hard-working councillor for the area.