A Dunfermline Central candidate standing for the SNP has apologised unreservedly for a Facebook post making light of mental health issues.
It follows revelations that Labour candidate Garry Haldane, who is standing in the same ward, is under investigation for his conduct on social media.
Last week, Scottish Labour and Royal Mail confirmed they were looking into allegations that local postie Mr Haldane shared sexist and racist messages on Facebook.
That prompted Scottish Labour to contact The Courier about a post left by SNP candidate Jean Hall Muir three years ago.
The post was similar to one of the controversial messages shared by Mr Haldane in April last year.
A spokesperson for Dunfermline SNP said: "Jean Hall Muir is a vocal advocate for mental health support and has had personal experience of challenges it can bring, so she would like to apologise, unreservedly, for any offence she inadvertently caused by sharing this post."
The post she shared included the statement: "25% of women in this country are on medication for mental illness. That's scary. It means 75% are running around untreated."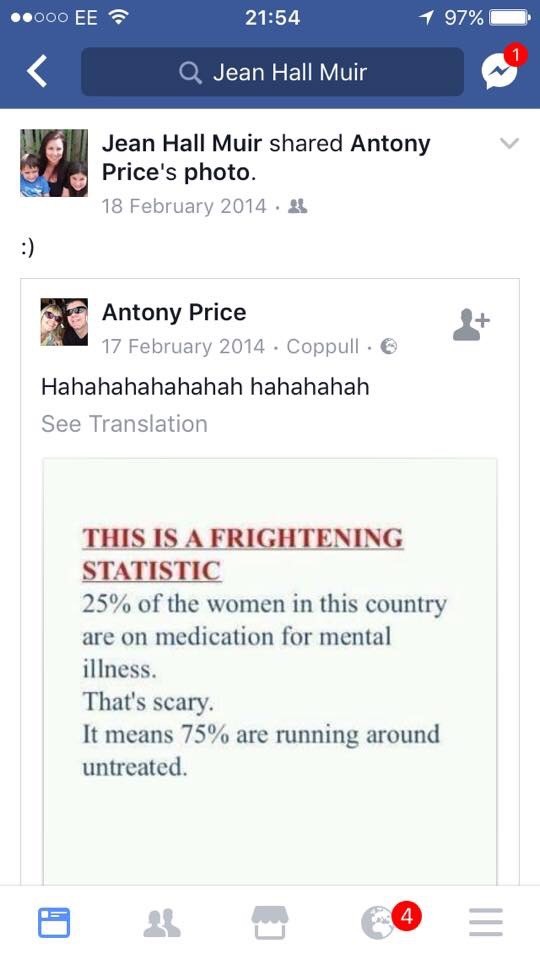 Ms Hall Muir, who chairs her local community council, is standing for the SNP alongside Councillor Neale Hanvey in the Dunfermline Central ward.
Scottish Labour is also fielding two candidates in the ward. Trade union branch secretary Mr Haldane is standing alongside Provost of Fife Jim Leishman for the party.
The SNP spokesperson added: "It is of note that while Scottish Labour have yet to condemn the judgement of Mr Haldane in sharing a catalogue of racist, sexist, and other offensive material online, the Scottish Labour Party has found time to a go through an SNP candidate's social media history, going back years, to find anything they can attempt to claim equivalence on.
"The SNP are investing £150 million in additional funds developing mental health services at the same time as Fife Labour have cut all financial support for the local Dunfermline charity Headroom, which delivers expert counselling to children in local secondary schools and is now at risk of closure.
"An SNP administration will work to keep this service going."
Candidates' social media activity has come under scrutiny as the public prepares to go to the polls ahead of the council elections on May 4.
Another Fife candidate, Kathleen Leslie who is standing for the Scottish Conservatives in Burntisland, Kinghorn and Western Kirkcaldy, apologised after calling First Minister Nicola Sturgeon a "drooling hag" in a rant on Twitter.