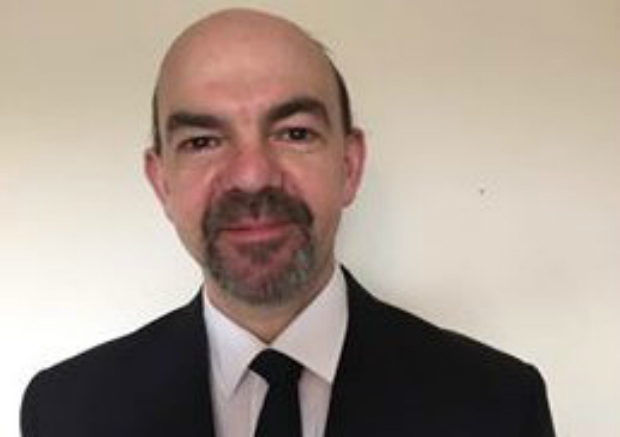 A Fife election candidate refused to apologise for using an image of Auschwitz in his election campaign, instead saying all Tories should die.
Former Labour member Deek Jackson, who came close to being selected as a party candidate, published a parody of a Conservative poster which superimposed an image of the Nazi death camp.
When challenged, he said: "Far from apologising, I think all Conservatives should commit suicide and the rid the planet of a parasitic life form robbing the rest of us of our birthright, a life free from exploitation."
His comments were described as disgraceful by a Scottish Conservative spokesperson and "sad and pathetic" by the Conservative leader on Fife Council, Dave Dempsey.
Mr Jackson, a busker and comedian from Dunfermline standing as an independent in Dunfermline Central, posted the same image on Facebook a Labour councillor in Nottingham was suspended for tweeting two years ago.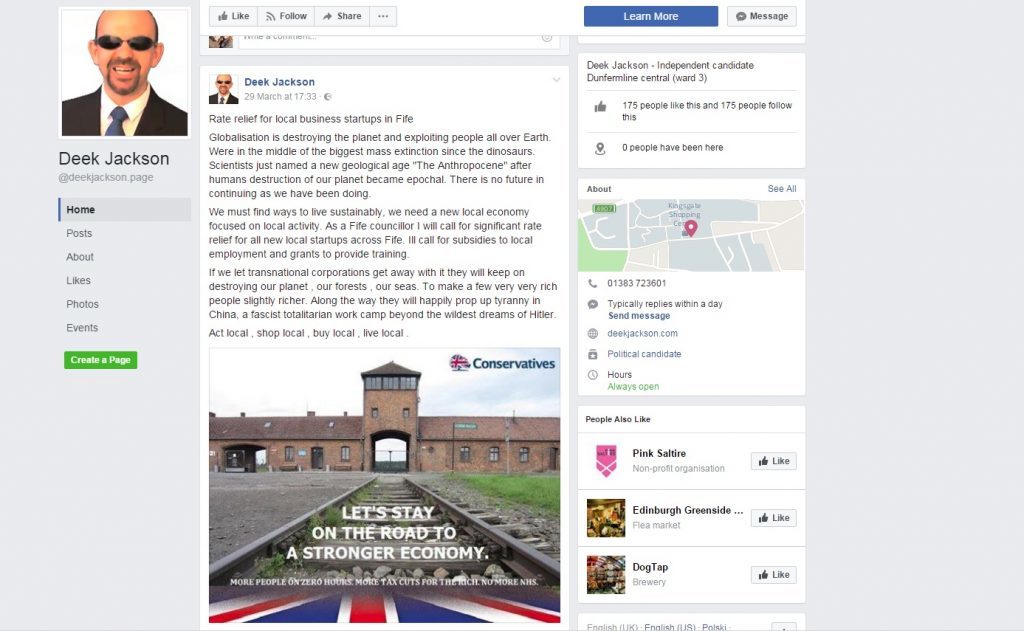 It was based on a Conservative poster with the slogan 'Let's stay on the road to a stronger economy', but replaced a photograph of a road and countryside with the death camp and its railroad and included the words 'More people on zero hours'.
Mr Dempsey said the image was "insulting".
He said: "It's sad and pathetic but the public are clever enough that those who bother to read his material will make of it what they will."
A party spokesperson said: "This post is hugely offensive and it's clear that attacks like this have no place in modern political discourse.
"This candidate has clearly acted inappropriately, and he should apologise for posting this image."
Of the suicide retort, he said: "This is yet another disgraceful comment from this individual.
"The latest attack will have people thinking that this candidate is not fit to be elected as a councillor."
Unrepentant, Mr Jackson said only Facebook moderators stopped him making even more inflammatory comments.
He said: "The Conservatives are constructing a workhouse where we are compelled to be slaves in an economy destroying the world and making rich people richer.
"I would say the Conservatives are raping our planet."
When it was suggested the public might by offended by his post, he replied: "I'm offended by the phrase 'hard working families', I'm offended by people consuming the planet."
He said he had been threatened, cursed at and spat at in the street for his views and said: "The Conservative demand I apologise is just another form of that.
"I thought we lived in a free world where people with opposing and different viewpoints were welcome to those viewpoints."
Mr Jackson, who founded the Landless Peasant Party and stood against former Prime Minister David Cameron in Witney in the last general election, said he was deselected by Labour due to his social media activity two days before candidates were chosen.
A Scottish Labour spokesman said: "Deek Jackson was removed as a candidate because of his offensive tweets. He is now no longer a member of the Labour party."