This video shows the moment a tearful Fife grandmother discovered she'd won just shy of £500,000 through an epic People's Postcode Lottery win.
Kirkcaldy woman Elizabeth Smith, 66, was shocked after first winning a huge £245,520 as KY2 6NT was revealed as the winning area at a special ceremony in the town's Beveridge Park on Saturday.
However, just seconds later it was revealed a second ticket had netted her another £245,520 – bringing her total up to an incredible £491,040.
Mrs Smith, shedding tears as she was handed the cheques, said it felt "fantastic".
She added: "I've never won as much as that in my life."
Speaking on the day she said: "I got the envelope for the £4,000 first of all and I thought 'this is great' because I've never won that amount of money before.
"But then they ripped that up on stage when the postcode came up, and when I got the first cheque I thought: "Oh my God, I can't believe it.
"To get the second one because I've got two tickets, it's just fantastic."
A total of 753 people living in the KY2 6 area of Kirkcaldy scooped People's Postcode Lottery prizes on the day.
The minimum prize for locals turned out to be £2,094, with the community left £3million richer.
Mrs Smith has been playing for 10 years and narrowly missed out on £25,000 in the game's early days when her old postcode KY1 was drawn in the street prize – although she had only just signed up to play and was not eligible.
A holiday to Toronto, Canada, might well be on the cards for Mrs Smith, who has two sons and 13 grandchildren.
While Mrs Smith was the big winner on the day, others left with plenty to celebrate.
Lorraine Reilly, George Wright and Kathryn Honeyman all went home with the best part of £250,000.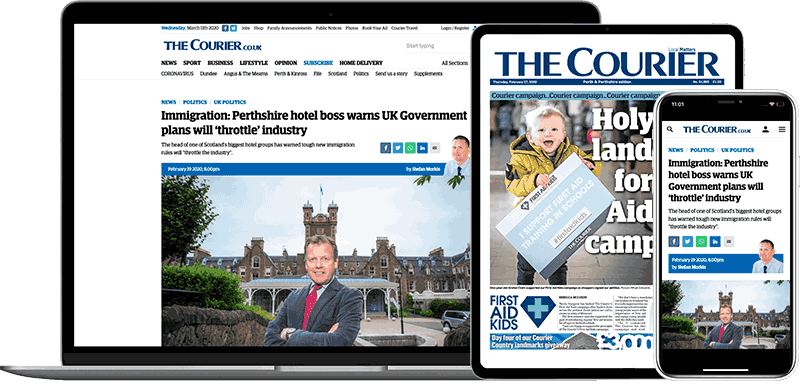 Help support quality local journalism … become a digital subscriber to The Courier
For as little as £5.99 a month you can access all of our content, including Premium articles.
Subscribe