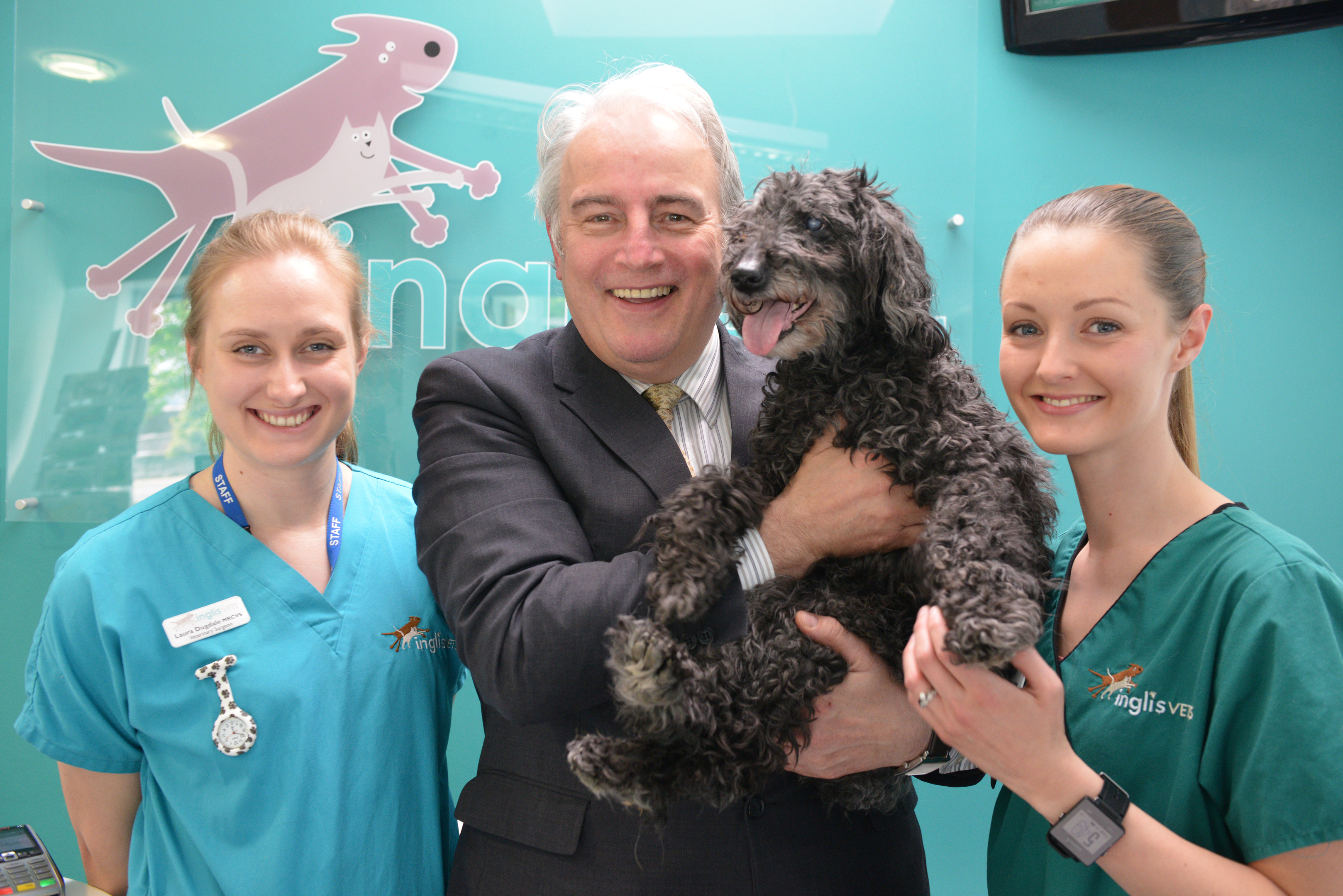 A Fife vet's was the scene of a heart-stopping moment after an elderly dog was brought back from the dead.
Now an Inglis vet and nurse duo have been commended for their fast action in bringing 17-year-old crossbreed Taz back to life.
Owners Ian and Jackie Mackay feared they would have to say goodbye to their beloved pet when he started making retching noises and foaming at the mouth just moments after snacking on one of his favourite treats — a piece of apple.
Taz was quickly rushed to Inglis Vets Hospital in Dunfermline where it was discovered the apple core had become lodged in his throat.
Just minutes after arriving, Taz's heart stopped beating.
After rushing him to the consulting room, the apple was carefully removed by veterinary surgeon Laura Dugdale, before veterinary nurse Martha McShane performed CPR.
Martha said when Taz arrived he was very pale and gasping for air, and then his heart stopped.
"Thankfully, Laura was quickly able to prise the apple piece out of his throat and then she brought him through to the prep room to start chest compressions.
"I then took over and performed a round of CPR and mouth to nose breaths.
"This lasted for several minutes until Taz thankfully regained consciousness and sat up."
She added it was lucky his owner got him to the practice so quickly otherwise he may not have been so fortunate.
Laura added: "Unfortunately, it can be easy for dogs to choke on the likes of apples and we would always recommend pet owners be selective with the treats they give and always supervise their pet eating.
"Both Martha and I were just so happy Taz pulled through — he's definitely a lucky boy."
An incredibly relieved Mr and Mrs Mackay said Taz was now in his senior years and his eyesight and balance weren't too great.
"After fetching the piece of apple, he stumbled and fell and we think that's what caused him to choke," said Ian.
Thinking it was "going to be the end" the couple prepared themselves for the worst.
"We couldn't believe it when they told us he had pulled through, we were amazed."
Taz is their "miracle" as they rehomed him at the age of nine when they were living in America.
He was timid because he'd been badly treated at his last home.
"Now at 17, he's incredibly full of life and we're overjoyed to have been given more time with him," Jackie said.
"We are extremely grateful to the team at Inglis, they are just amazing and we will be forever thankful for what they did for Taz."