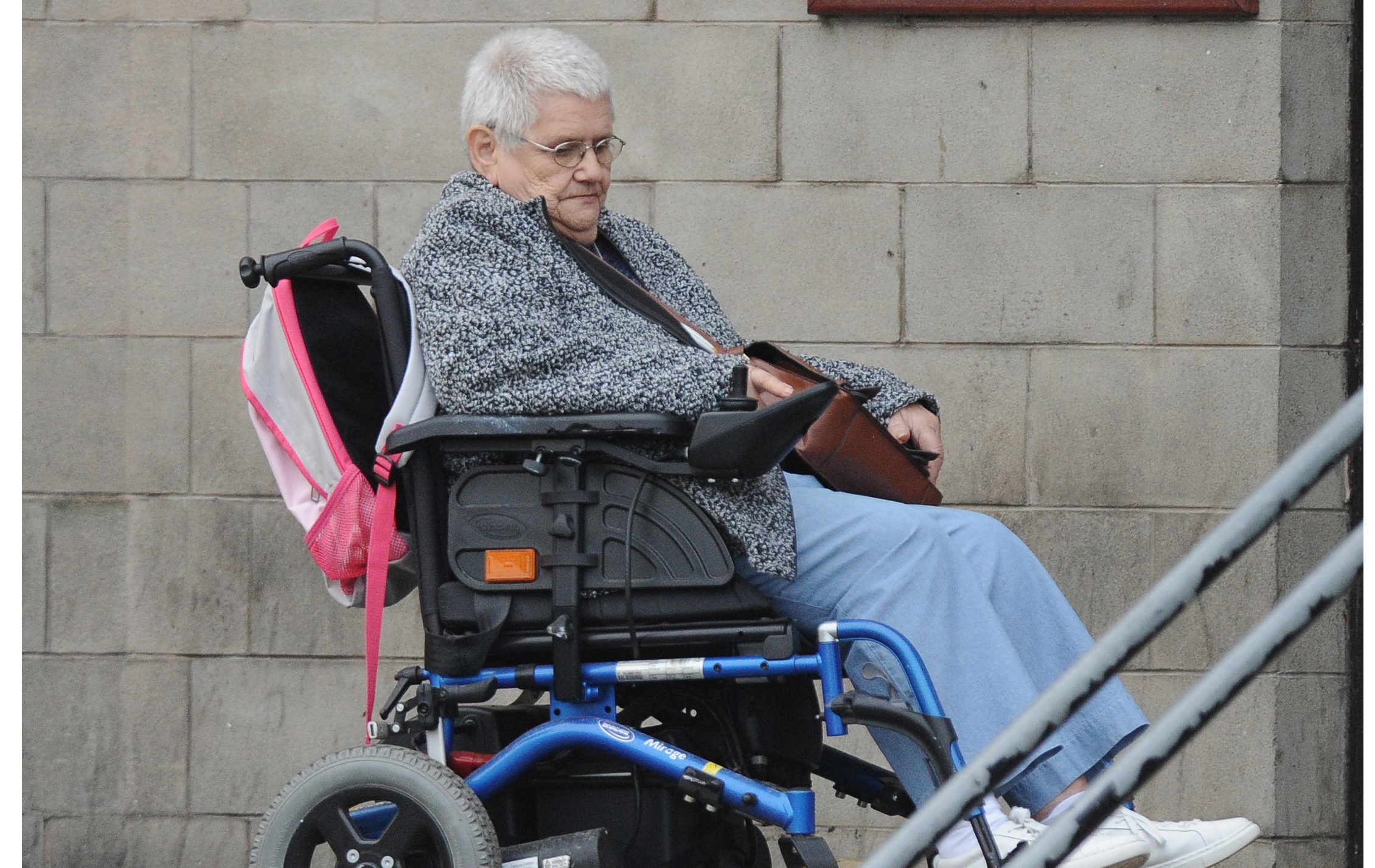 An application for a court order to monitor the behaviour and restrict the internet use of a Fife pensioner who caused mass panic from the comfort of her own sofa has been branded "draconian" by a sheriff.
Wheelchair-bound Isabella Jackson, 73, was jailed for 45 months at Kirkcaldy Sheriff Court on Thursday for a series of offences which included sending a death threat to Prime Minister Theresa May in November 2014, and sparking bomb scares at Harrods, King's Cross station in London and at Edinburgh Airport by sending emails claiming there were explosive devices at the high profile locations in January this year.
The Buckhaven pensioner also sent a suspicious package which contained white powder and was marked with the word 'Death' to Levenmouth Police Station in January, and also emailed Fife Council to falsely tell them that a fellow care home resident had died.
But despite the court hearing that her risk of re-offending upon her release was classed as "imminent" by social workers, Sheriff Grant McCulloch has asked the Crown Office to look again at its application for a rare serious crime prevention order – which is normally reserved for organised criminals.
The Crown is seeking the order which, among other things, would curtail Jackson's use of the internet and electronic devices, see Police Scotland monitoring software installed on her computer, and would also require the OAP to check in at her local police station four times a year.
However, Sheriff McCulloch said some of the conditions imposed were "not reasonable", given Jackson's health issues and mobility problems.
"These orders are normally aimed at drug dealers, violent gangsters and alike," he noted.
"I'm aware this has been drafted for good reason but the actual terms of it are extremely draconian."
Sheriff McCulloch went on to describe some of the clauses in the proposed order as "extremely complicated", adding: "I find this very difficult to know, if I was the subject of the order, exactly what I could and couldn't do."
Solicitor Alistair Burleigh said his client appears to have been suffering from some sort of mental disorder since she spent time in a mental health institution in France following the death of her late husband.
"It became apparent that she appears to be someone who is extremely isolated," he explained.
"I think it's fair to say Mrs Jackson is probably not a threat, but her behaviour obviously, and she accepts it, does cause a significant amount of disruption and work for those that have to deal with these matters. She seems to appreciate that.
"There are clearly background events which seem to have resulted in her having unusual views and beliefs and I don't think she has ever fully come to terms with her husband's sudden death."
Mr Burleigh added that Jackson had not wanted to go back to prison, having had a heart scare since she was last remanded in custody.
Jackson was sentenced to almost four years behind bars on Thursday, but a decision on the Crown's application for a serious crime prevention order has been deferred to a later date for further scrutiny.
Detective Chief Inspector Kenny Armstrong, of Police Scotland's Organised Crime and Counter Terrorism Unit, said that Jackson's actions were reprehensible.
"I am at a loss as to why an elderly woman should choose to carry out this campaign of threats and malice," he concluded.
"The time, effort, cost and resources that have been put into dealing with each threat she made has been sizeable and took officers and emergency services partners away from dealing with genuine incidents.
"Even when her laptop and phone were seized, she went on to disrupt policing by sending a suspicious package to her local station and still managed to email bomb threats.
"She has shown no remorse nor given any sort of explanation for her actions, but I am pleased that she has accepted responsibility, resulting in her conviction."