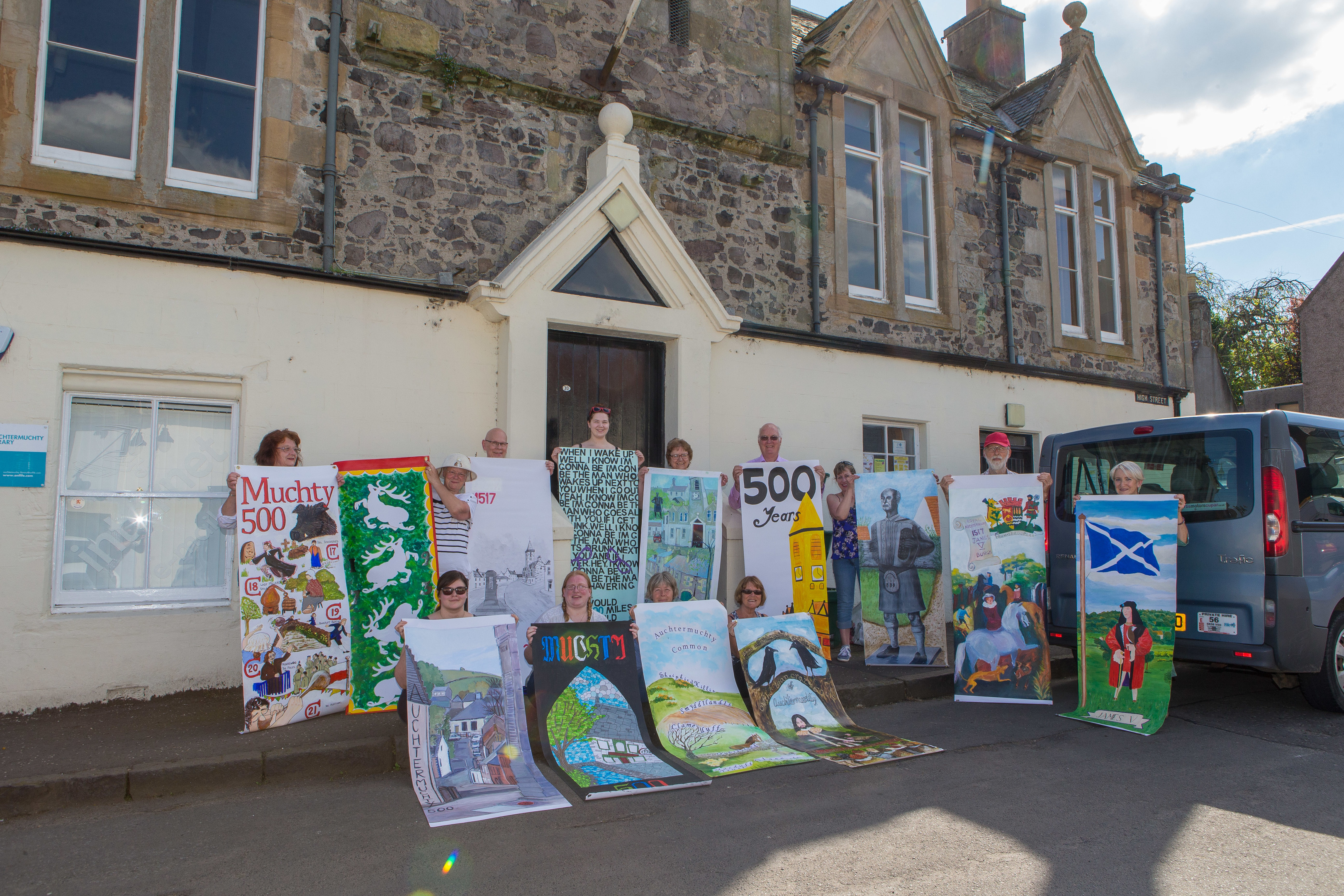 A Fife village is to celebrate 500 years since it was made a royal burgh by the young James IV of Scotland.
Auchtermuchty's royal charter was granted on May 25, 1517, giving it the right to have free burgesses, annual elections, weekly Wednesday markets and fairs on St Serf's Day.
Banners have been erected marking the special milestone as the community counts down to a street party next month.
Supported by a small grants scheme, local artists painted the banners, hung on Friday in The Cross, which depict aspects of Auchtermuchty past and present.
Liz Rowley, of Muchty 500, said: "The banners will decorate The Cross for the two weeks leading up to the celebrations on June 10.
"The project was funded by Small Sparks and it has encouraged people to become involved in the local community.
"Some of the artists have returned to painting after a period of time and for many banner painting was a new experience."
The royal charter was granted by the child king, consent having been issued by his father James IV before his death at the Battle of Flodden Field in 1513.
It reads in part: "Know ye, because to us and to our very dear kinsman and Regent, John, Duke of Albany, the Protector and Governor of our Kingdom, I being only aged 6 years, it is clearly known that our late most noble father, James the Fourth, King of Scots, consent in open parliament to have made and created the village and lands of Auchtermuchty in a free burgh. However, before the resolution was confirmed he closed his last day."
On June 10 the 500th anniversary celebrations will include a street market, where local organisations will raise funds and awareness of their activities, and a street party with live entertainment through the afternoon.
There will be children's games and competitions in the gardens of MacDuff House and a ceilidh will be held in Auchtermuchty Parish Church Hall.
Musicians performing will include Kyle Innes, Yvonne Macleod, the Muchty Musicmakers, The Leveneers, Glenfarg Scottish Dance Band, George Brown and Erin Scott.
Organisers and stewards will be dressed in medieval costume.
An exhibition will also open in the church of Auchtermuchty history, including photographs and items of interest.