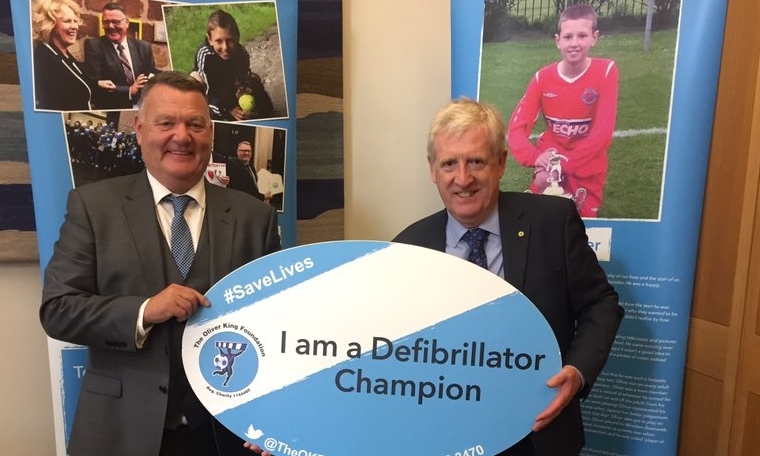 A Fife MP is pushing for defibrillators to be installed in local primary schools.
Dunfermline and West Fife MP Douglas Chapman said it is brilliant that there are several defibs in busy Dunfermline town centre locations.
Three public access defibrillators have been installed in Dunfermline's Kingsgate Centre, Wetherspoons and in the City Hotel in recent months.
"It is vital that we take action to prevent any loss of life where one can be saved," he said.
The SNP politician added: "I am pushing to see more defibrillators installed across towns and villages in west Fife, especially our primary schools.
"So I will again be writing to schools in my constituency to see if they can fundraise and get this lifesaving equipment in our schools, protecting our students, teachers and constituents."
In the UK 30,000 people suffer a sudden cardiac arrest every year.
However, statistics show that fewer than one in 10 people survives.
Mr Chapman, who is a defibrillator champion for the Oliver King Foundation, met charity representatives in parliament recently to show his support.
Thank you to @DougChapmanSNP for popping in to see us today and for reaffirming your support for @TheOKFoundation pic.twitter.com/2zmvEZZYwV

— The OK Foundation (@TheOKFoundation) July 12, 2017
"It was inspiring to hear from the foundation about the lives saved by defibrillators.
"So I'm proud to become a lifesaving defibrillator champion for our community," Mr Chapman added.
A defibrillator was installed earlier this year at Cairneyhill scout hut while there are plans to install one in Dunfermline's Pittencrieff Park, where a highly popular weekly Parkrun takes place.
The Oliver King Foundation was set up in 2012 following the death of 12-year-old Oliver.
He died from a sudden cardiac arrest while at school.
Had there been a defibrillator available on that day, Oliver might still be alive.
His dad Mark said: "Five years ago, when my son Oliver passed away from this hidden heart condition, we didn't know that his legacy would reach this far.
"We are determined to save as many young lives as possible, so that no other family has to suffer a similar loss."