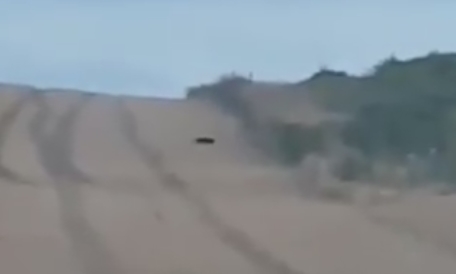 A shocked Rosyth woman has posted what appears to be the best evidence yet that big cats do indeed prowl the wilds of Fife.
Sabrina Mahmood posted three videos of a mysterious creature making its way across fields on the outskirts of Rosyth.
The videos show a black or dark-coloured animal with cat-like movement. Sabrina says the animal has been confirmed as a big cat.
While that has not yet been officially confirmed, the long range suggests the animal must have been far bigger than any domestic cat.
Sabrina posted: "Out my back window in the fields…. surely that can't be someone's pet cat….
"For those of you asking it's the fields at the back of Alexander Place in Rosyth, Fife."
She added: "Update…. It's been confirmed its a big cat. They will be out tomorrow morning to check where the big cat exactly was. No doubt looking for paw prints to see what they are dealing with."
For more, see Tuesday's Courier
Bigfoot? The Courier has been carrying monster tales for years