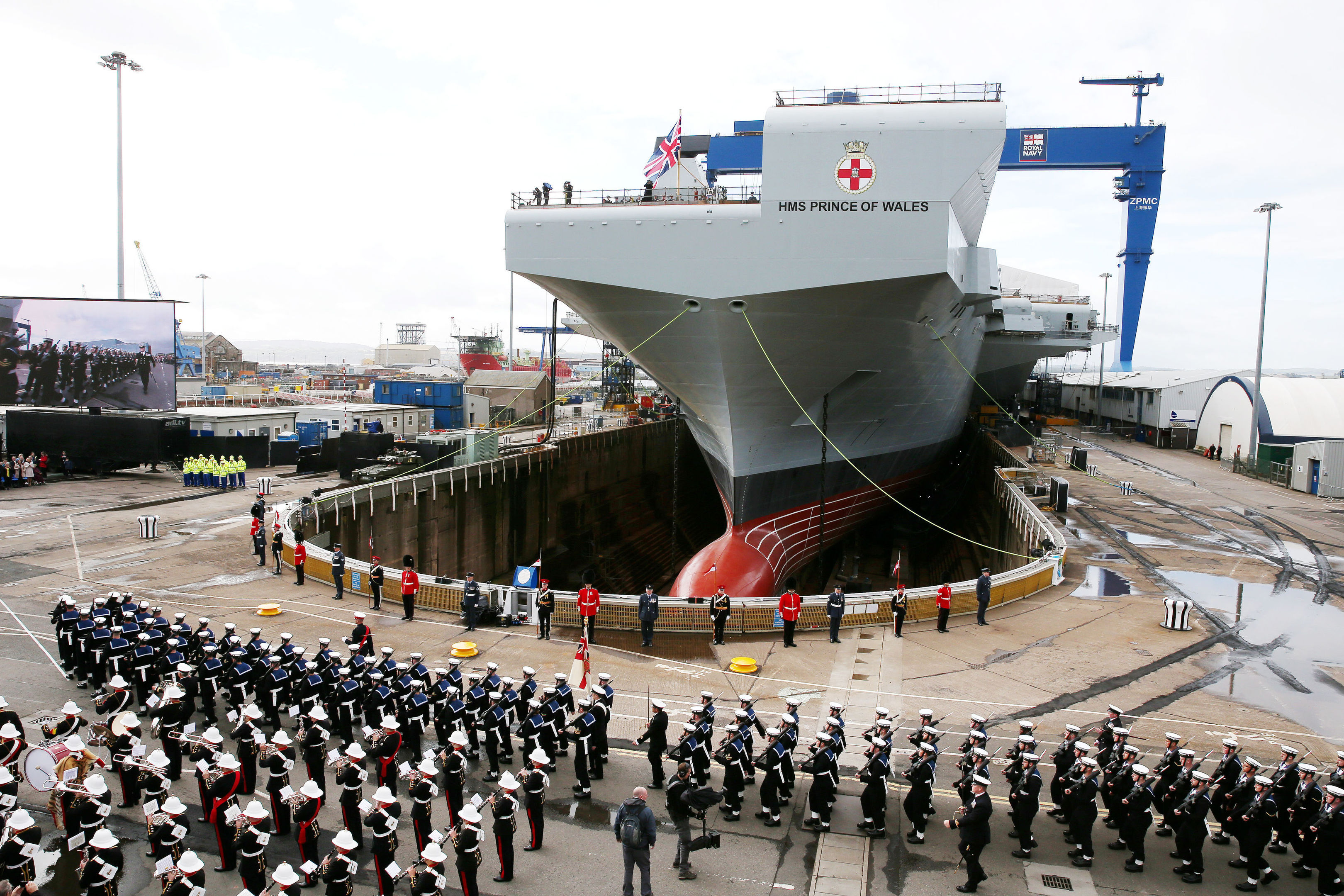 The second of the United Kingdom's new aircraft carriers was given the royal seal of approval at a ceremony in Fife.
Politicians, naval officers, the ship's company, contractors and their families assembled at Rosyth Dockyard to watch the Duchess of Rothesay christen HMS Prince of Wales.
Joined by the Duke of Rothesay, Prince Charles, the Duchess performed the customary honour in her capacity as the £3 billion vessel's lady sponsor.
A bottle of Scotch whisky – Laphroaig 10 – was used for the traditional smash over the hull, with the Duchess telling the assembled dignitaries that she felt a huge attachment to the new carrier.
"When she and her ship's company are on the high seas, please remember that I will be holding you all in my thoughts and prayers," she said.
"I am certain that you will carry out whatever is asked of you with the pride that comes from being at the forefront of our naval prowess.
"Wherever she is asked to serve her country, may she and her company return safely to harbour."
Though the second of the Royal Navy's new flagships, HMS Prince of Wales was afforded all of the pomp and ceremony of her sister ship HMS Queen Elizabeth when she was named in 2014.
The assembled crowd of around 2,000 people were treated to not one but two flypasts featuring Merlin helicopters, Hawk jets and even a vintage Hawker Sea Fury, the last propeller driven fighter to serve the Royal Navy.
Though still under construction, the vessel is expected to undertake sea trials in 2019 and enter service in 2023.
Friday's ceremony comes after HMS Queen Elizabeth left the Fife dockyard for her sea trials in June.
With those successfully completed she is now berthed at her home port of Portsmouth.
Admiral Sir Philip Jones, First Sea Lord and Chief of Naval Staff, said that possessing two carriers would allow the UK to project permanent worldwide power for decades to come.
"To build one carrier is a symbol of national ambition, but to build two is a sign of real commitment to our own security and to our international responsibilities," he said.
"With two Queen Elizabeth-class carriers in Royal Navy service, one will be available for operations at all times.
"They will provide our nation with a continuous carrier strike capability, a powerful conventional deterrent in a dangerous and uncertain world."