It is the iconic Cupar landmark that was built in 1964 as a bulk sugar store for the adjoining sugar beet factory.
Now the Cupar Silo, sited at Cupar Trading Estate, is to host an exciting new project that explores craft within Fife's farming landscape.
Fife Contemporary – which nurtures the creation, understanding and appreciation of high quality contemporary craft and visual art with international significance – has unveiled their latest project, In Time, In Land, which will run at the silo over two weekends.
The project, which takes inspiration from Scotland's themed Year of History, Heritage and Archaeology 2017, will look at three inland crafts through the eyes of contemporary craft artists from Fife and beyond who are re-inventing methods of design and production.
A choice of traditional and historical crafts associated with the rural environment are also featured having been brought over from the Fife Folk Museum, over the hill in nearby Ceres while a shipping container placed next to the silo will feature work from artists John Creed (blacksmith), Chalk (plasterwork) and Julia Complin (weaving). The silo is now run as an arts venue by Silo Projects.
On Saturday September 30 from 11am to 4pm, Cowdenbeath-based Chalk will host a session learning about the art of plastercasting.
On Sunday October 1, artist Julia Complin hosts a weaving day. Textiles were once central to Fife's industries, so there will be a chance to try table-top weaving and to experience the lower floor of the Silo through a sound piece by artists Carolyn Scott and Andy Sim, which explores the relationship between the local community and the historic structure.
Saturday October 7 features a metalwork day with silversmith and blacksmith John Creed in the Silo. It will focus on the sounds and sights of the foundry.
Then on Sunday October 8, a heritage day will investigate the heritage of wider Cupar and its crafts, with informal talks around the heritage of plasterwork from Steven Blench of Chalk; artefacts and spinning workshop with textile artist Jan Hendry; and photos of the Silo in collaboration with St Andrews University Library's Special Collections, Dc Thomson & Co Ltd and Cupar Heritage.
During the two weeks of the project, Craft Scotland is supporting the delivery of artist-led sessions to Castlehill Primary School, Bell Baxter High School, Stratheden Hospital and Fife Folk Museum volunteers through their Meet Your Maker scheme.
Diana Sykes, director of Fife Contemporary, said: "Fife is fortunate in having such a rich historical and natural environment. We hope this project will provide a different way of appreciating both through the lens of craft."
The Cupar Silo was built in 1964 as a bulk sugar store for the adjoining sugar beet factory.
Its short life ended in 1971 when the entire place closed and was then used for grain storage until the late 1990s when considered no longer viable.
Having remained empty for a number of years, the 197 feet tall silo took on a new lease of life in 2008 as an experimental arts venue.
Since then it has hosted several arts events including installation, film, performance, dance and experimental sound work.
The Silo is now managed by a charitable organisation, Silo Projects.
Meanwhile, the Fife Folk Museum in Ceres, has a collection of over 10,000 objects, photographs, documents and costumes reflecting Fife's social, agricultural and industrial heritage. The visitor centre there includes a shop and the Weigh House Tearoom.
*In Time, In Land, Fife Contemporary @Silo Projects, Cupar Trading Estate, September 30/October 1 & October 7/8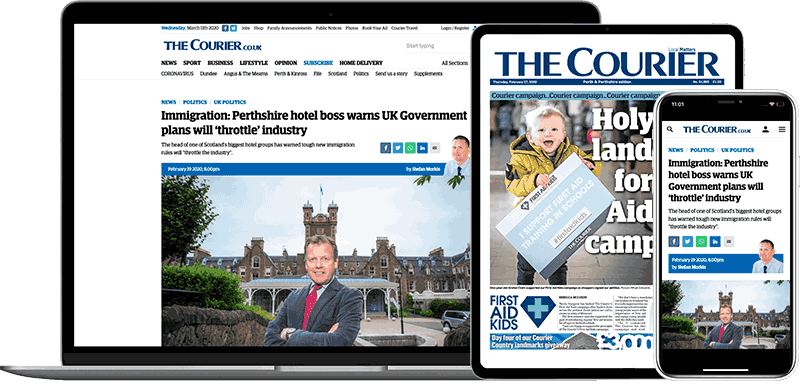 Help support quality local journalism … become a digital subscriber to The Courier
For as little as £5.99 a month you can access all of our content, including Premium articles.
Subscribe