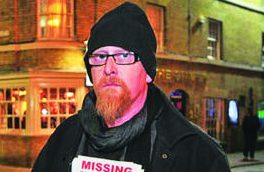 The father of missing Fife airman Corrie McKeague is hoping a police campaign in Bury St Edmunds will shed light on his son's disappearance.
Martin McKeague, 48, is spending the weekend in the Suffolk town, where Corrie went missing a year ago.
He and his wife Trisha joined officers on Friday night in the town centre, where they spoke to people in the hope it would jog memories about events 12 months ago.
"The people of Bury St Edmunds have been quite helpful. I'm expecting the same thing to happen this time," he said.
Suffolk Constabulary has released images of a number of people who they believe may have interacted with Corrie shortly before his disappearance in the early hours of Saturday September 24 last year.
"We need to have these people identified and spoken to, to see if that can shed any light on what happened," said Mr McKeague, of Cupar.
Corrie, who was a gunner based at RAF Honington, 10 miles away from Bury St Edmunds, had gone out with friends on Friday September 23 and failed to turn up to work the following Monday.
It is believed he may have fallen asleep in a bin and ended up at a landfill site in Milton, Cambridgeshire.
Police spent 20 weeks sifting through waste at the site but found no traces of Corrie, who would have celebrated his 24th birthday earlier this month.
Mr McKeague said he travelled to Milton each week during the search.
He said: "This is all I have done for a year – tried to find my son. And I'll continue to keep trying to find my son."
He added: "I have never held out any hope to see my son alive.
"I thought something sinister had happened to him from the first week that I was down there. All these thoughts go through your head.
"All I want is closure and to find my son. I'm not interested or bothered about anything else that is going on."
He said of the one year milestone: "It's just as difficult as when it was the second week, the third week or the fourth week."
Sunday marks a year to the day since Corrie disappeared and Suffolk Police has released CCTV images of four men who had a "brief interaction" with Mr McKeague before they entered Flex nightclub.
The force said the men are not key witnesses and are not being treated as suspects, but may have information "that may help understand what happened" to the RAF gunner.
Police investigating Corrie's disappearance confirmed on Friday that four of the individuals released to the media in CCTV images have now been identified.
It comes after one of the men pictured came forward on Wednesday evening and identified himself following the appeal to the media.
He also gave names of the three friends he was with on the night and whose images were also issued.
Police say they understand there was a brief interaction ending on friendly terms with Corrie and, as there was no further contact after this, they are not considered to be significant to the investigation.
A Suffolk Police spokesperson said: "The group of four knew Corrie and joked with him before they went their separate ways.
"Police will speak to the three other males in due course."
Another man and woman also came forward and identified themselves, with police confirming that the pair will also be spoken to in due course.
Corrie McKeague timeline of events:
Friday September 23 – Corrie and a group of friends go for a night out in Bury St Edmunds.
Saturday September 24 – Corrie becomes separated from his friends after leaving a nightclub in the early hours and goes for a takeaway. He sleeps in a shop  doorway for two hours before texting a friend at 3.08am. This is the last time he used his mobile phone.
3.24am, September 23 – The last confirmed sighting of Corrie is as he enters a loading/refuse collection area.
Monday September 26 – Corrie is reported missing after failing to turn up for duty at RAF Honington.
Tuesday September 27 – Police make their first media appeal for information and a police helicopter is called in to search the 10-mile stretch between Bury and the RAF base.
Wednesday September 28 – Police, the RAF and other search teams scour possible routes between Bury and Honington.
Monday October 3 – A bin lorry is seized after police reveal data shows the movement of Corrie's phone on the night he disappeared matches its route. The phone is not found.
Tuesday October 11 – Search dogs are brought in.
Friday October 21 – Police release CCTV footage of Corrie's last ever sighting.
December 6 – Corrie's grandparents, Mary and Oliver McKeague from Cupar, announce a five figure reward for information.
December 7 – Corrie's mother Nicola Urquhart offers a £50,000 reward thanks to an anonymous local business couple. A £20,000 fundraising drive is also launched to help pay for the family to stay in Suffolk during the search and the hiring of a private investigator.
January 9 – April Oliver, 21, from Norfolk, announces she was Corrie's girlfriend and is pregnant with his child.
February 10 – Police announce they will search a landfill site at Milton, Cambridgeshire.
March 7 – Police say the significance of the bin collection from the area where Corrie was last seen is greater than first thought after it was discovered it weighed more than 100kg, not the 11kg initially stated.
May 15 – Police begin an 11-week search of the landfill site. It was revealed in the 10th week the investigation has cost Suffolk Constabulary £1 million. No trace of Corrie is found.
August 1 – Police examine material found in incinerator waste. It is found not to be related to the missing airman.
September 21 – Police release new CCTV images of four people who may have interacted with Corrie before he disappeared but say they are not suspects.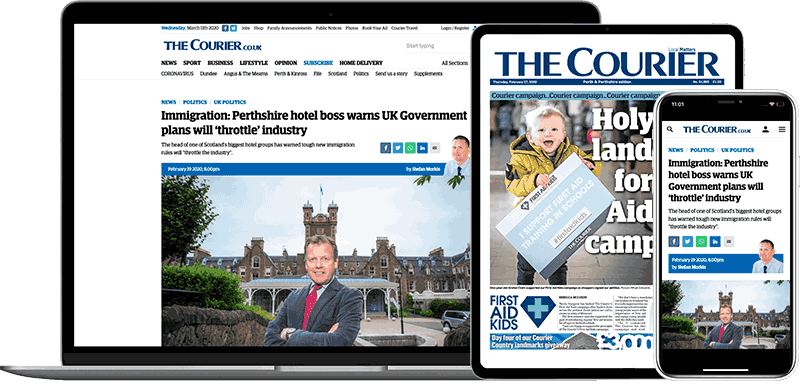 Help support quality local journalism … become a digital subscriber to The Courier
For as little as £5.99 a month you can access all of our content, including Premium articles.
Subscribe