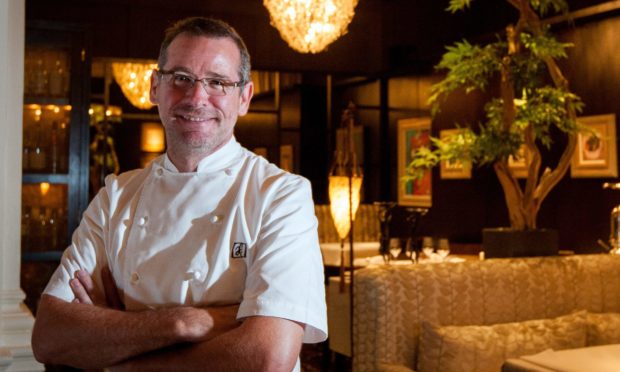 Scotland's only two Michelin-starred restaurant, Andrew Fairlie at Gleneagles, has cemented its place as the best in the country by retaining its prestigious status.
Thirteen Scottish restaurants in total have been awarded coveted stars by The Michelin Guide, which is viewed by many as the ultimate foodie bible, with Andrew Fairlie's eponymous eatery at the Gleneagles Hotel again coming out on top for 2017 after securing two Michelin stars.
Commenting from the Michelin Live award ceremony in London on Monday, Mr Fairlie paid tribute to his team at the Perthshire venue for ensuring continual high standards.
"Retaining two Michelin stars for 12 years is extremely hard and quite an achievement in itself," he said.
"With consistency being everything, I can only thank the relentless efforts of my amazingly talented team for working to this standard every single day – which is exhausting, but extremely rewarding.
"I couldn't be more proud. With all the new developments at Gleneagles we are undoubtedly in the most exciting phase of the restaurant's evolution, and I can't wait to see where it takes us all."
Elsewhere in Courier country, Fife can also boast two restaurants with one Michelin star each, as The Cellar in Anstruther, which is run by Billy Boyter, and The Peat Inn, led by chef patron Geoffrey Smeddle, kept their prestigious status in the latest edition of The Michelin Guide.
Mr Boyter commented: "It's such an honour to be included in the Michelin Guide beside so many amazing restaurants.
"We pour our hearts and souls into what we do and to have that recognised by the guide means a lot me personally and also for our business.
"Having a star really helps keep you on that culinary map."
Mr Smeddle also took to social media to praise his staff.
"Our crack team of ninja chefs and wonderful waiters have retained our Michelin star for the 9th consecutive year," he said.
"Huge congratulations."
Kinross-shire chef Tom Kitchin, who became the world's youngest Michelin-starred chef aged just 29 back in 2007, was also celebrating as his restaurant, The Kitchin in Edinburgh, retained its Michelin star.
It was one of four Michelin-star quality restaurants in the capital featured in the guide, with Martin Wishart in Edinburgh; 21212, with Paul Kitching at the helm; and Number One at the Balmoral Hotel, under executive chef Jeff Mitchell, also retaining their stars.
Meanwhile, The Araki, a £300-per-person sushi restaurant in London's Regent Street with just nine seats, joined four other UK restaurants with three Michelin stars.
Those retaining their three-star rating in the latest list were Heston Blumenthal's Fat Duck and Alain Roux's Waterside Inn in Bray, Berkshire; Alain Ducasse at the Dorchester in Park Lane; and Restaurant Gordon Ramsay in Chelsea, which secured its award under new chef Matt Abe.