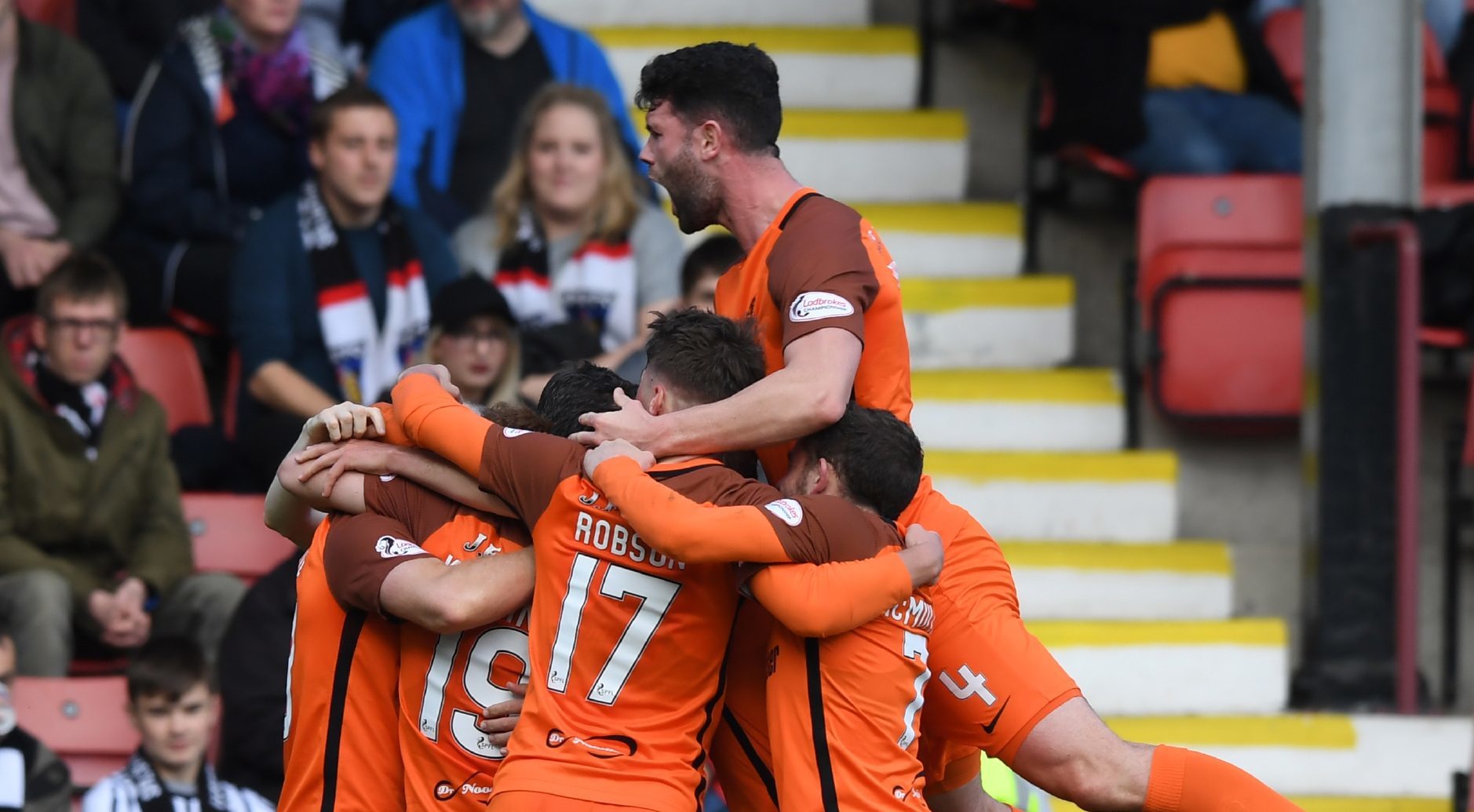 Dunfermline Athletic fans who took part in homophobic chanting and hurled "foul, threatening" abuse during a match against Dundee United could face being banned from future games.
The Pars were beaten 3-1 by the Tangerines at East End Park on Saturday, after which the club received a string of complaints about "foul, abusive, threatening and intimidating language" being directed toward both children and adults.
Homophobic chanting, allegedly originating from a section of the North Stand, was also apparently directed at United players.
Yesterday Dunfermline Athletic FC chairman Ross McArthur issued a statement condemning the behaviour — which is said to have taken place during the first half of the match.
And supporters groups from both clubs have united to condemn the behaviour.
Mr McArthur warned anyone caught taking part in similar chanting or abuse in the future would face a banning order by the club and even "criminal charges".
He also called for fans to alert match stewards to any such behaviour despite how "intimidating" it may be during matches.
In a lengthy statement Mr McArthur thanked the majority of fans for their "wonderful support since the start of the season" before condemning "a very small minority".
He added: "We have had a really positive start to the season as a club, and for me personally it is deeply disappointing to have to mention once again unacceptable behaviour, which continues to create not only an unnecessary distraction for everyone connected to our club, but portrays our community club so negatively.
"The vast majority of our fans are an absolute credit to our club, but a very small minority of supporters have once again sullied the good name of Dunfermline Athletic Football Club, at Saturday's match against Dundee United.
"As a consequence, we have received numerous letters of complaint from our own fans broadly relating to two particular issues: foul, abusive, threatening and intimidating language (toward other adults and children), and homophobic chants during the first half of Saturday's match."
He added that the actions "cannot be condoned at East End Park".
Mr McArthur said: "Threatening and abusive behaviour to anyone, particularly children, is simply out of order and discriminatory chanting, of any kind, is not acceptable in today's society.
"Dunfermline Athletic take these issues very seriously, and any individuals caught acting in this manner will be issued with banning orders, and could likely face further criminal charges.
"We are committed to creating a passionate, inclusive and welcoming environment at East End Park, in which everyone can enjoy the match day experience. However, everyone has to act within the same rules which are laid down by law."
Steven Walker, chairman of the Dunfermline Athletic Supporters Club, said behaviour such as this is not common at Pars games.
He added: "I absolutely back Ross. We have got a great support as has been shown in the last two to three years.
"Every club has got a small majority of fans that will sully the name. It is very very few and far between. It doesn't happen a lot. I am not quite sure what was going on on Saturday. It doesn't happen at Dunfermline much."
A spokeswoman for Dundee United supporters group, Arab Trust, said: "As a supporters group, we would condemn any unacceptable behaviour during any football game and would welcome the necessary action taken against any individual that breaches ground rules."