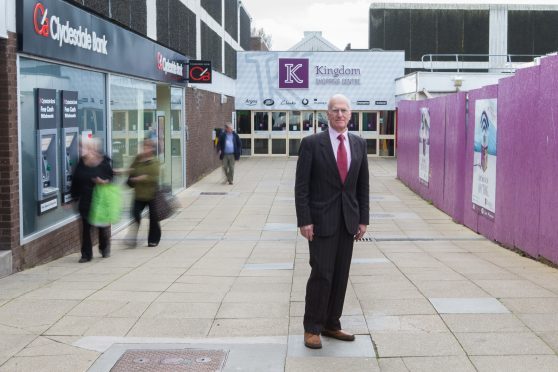 Glenrothes town centre could become a "ruin" unless suitable investment is made in the area, a local councillor has warned.
Ross Vettraino said the establishment of a new retail and leisure complex at North Street could spell make or break for its future.
And he said any further upgrades to the wider town centre should be judged not just on their attractiveness to visitors, but on their ability to encourage economic growth.
Speaking about the North Street complex, he said: "There is no doubt that this proposed development will enhance our town centre.
"It will make it a better place and a better place to be.
"But when the application came forward for this development the owners of the Kingdom Shopping Centre objected to it because of the threat it will bring to the town centre.
"That is my fear.
"We need to improve our civic space but not at the expense of the economy of our town centre.
"If that happens then something needs to be done or we will be left with a ruin on our hands.
"We do have an ambition to improve our town centre at Albany Gate but unless we have a town centre that is vibrant then that will never happen."
Councillor Vettraino was speaking after town councillors were updated on a major funding package designed to complement the construction of the new North Street retail and leisure complex, which will bring chains such as Marks and Spencer, KFC and Tony Macaroni to the town centre.
Among the proposed measures are a new 20 mph speed limit on North Street and new public spaces outside Kingdom House and Fife House.
Under the plans, the site of the now demolished Glenrothes House, next to the Kingdom Centre, will be turned into a large green space, with seating areas, flower beds and cycle storage facilities.
Last week it was revealed that construction of the North Street development could start within weeks. The scheme is forecast to create in the region of 150 jobs.