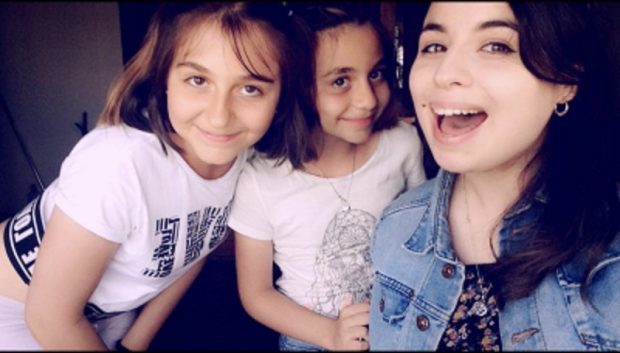 A young Fife film-maker's personal documentary about her family's escape from war-torn Syria has been shortlisted for multiple awards.
Laura Wadha's film, Flight, is one of just six selected from thousands of entries to be screened at this year's Aesthetica Short Film Festival (ASFF), a major BAFTA-recognised event.
Described as both heartbreaking and uplifting, Laura's 10-minute film tells of her two young cousins' journey from Damascus to Sweden.
It is now in competition to receive several awards, each recognising outstanding talent in film-making, including Best in Category, Festival Winner and the People's Choice Award.
Laura, 23, from Glenrothes, spent four years making her documentary using archive footage filmed on holiday in Syria as a 16-year-old, combined with recorded Skype calls when the conflict began and clips from the family's dangerous journey to Europe.
Her cousins Mera, now 13, and Maria, 11, are now settled with their mother in Sweden but both suffer nightmares and remember nothing from before the war.
"When I began developing the film, my main goal was to make something that would show a different perspective of Syria," said Laura.
"I wanted to generate empathy for my family and a place which has been so widely covered in the media."
Laura, who studied HND Television at Edinburgh College and has recently graduated from Norwich University of the Arts, said making the film had been the most important thing in her life.
"Syria is a beautiful place and I have a deep sense of urgency to show the people from a personal and relatable angle," she said.
"When the conflict in Syria began I started recording phone calls and Skype calls with my family in Syria, talking about how they felt, the things they were seeing and their hopes to be able to get out of Syria.
"In the summer of 2015, my family made the dangerous journey from Syria to Europe.
"My aunt and her two young daughters, Mera and Maria, came across from Turkey to Greece on a dinghy and made their way across Europe to safety during the refugee crisis."
Regarded as a creative hub for the avant-garde, ASFF is a hotbed for talent discovery and a key annual event for emerging film-makers.
Previous alumni have gone on to collaborate with the world's most acclaimed talent and have achieved wins at the Academy Awards, BAFTA and Sundance Film Festival.