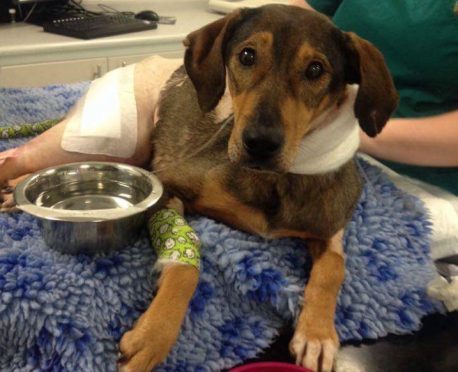 A rescue dog which bolted and was hit by a car 90 minutes after meeting her new owner has racked up an £8,000 vet bill.
A group of Fife animal enthusiasts has launched an urgent appeal to raise funds for the Romanian rescue dog.
Three-year-old Pollyanna is recovering at a surgery in Edinburgh after suffering a list of serious injuries when struck by a car.
The mixed breed was knocked down near her Hillend home having made a break for freedom just 90 minutes after being introduced to Carole Armour, who had rescued her from the streets of Eastern Europe.
With an £8,000 medical bill to cover, Isobel Brown from the Fife branch of dog enthusiast group Dana's Angels, has launched an online bid to help Carole bring her new pet home.
She said "The journey from Romania took four days but when she got to the house she was there for an hour and a half before escaping.
"We spent four weeks monitoring and tracking her. We worked in teams but when we tried to trap her she was just too smart."
Having previously stayed in woodland and away from roads, Dana's Angels were distraught to hear Pollyanna had rushed out in front of a car.
The poorly pooch was rushed to a vet in Edinburgh where her injuries included a full broken leg, pelvis and hip.
Having lived wild for four weeks, she was also in severe need of fluids and Carole was consulted as to whether or not her new pet should be put down.
Pollyanna was taken to Edinburgh for specialist surgery where she is now recovering well, though a return to full health remains a long way away.
With another rescue dog – Stella – keen to be reunited with her travelling pal, Isobel and her Dana's Angels colleagues have launched an online campaign to help Carole meet her vet bill and return Pollyanna to her new home as soon as possible.
"The vets have said that Polyanna's resilience has been remarkable," she added.
"Stella is pining for her and we can't wait to reunite them."
Anybody wishing to donate can do so online at www.justgiving.com/crowdfunding/isobel-brown.