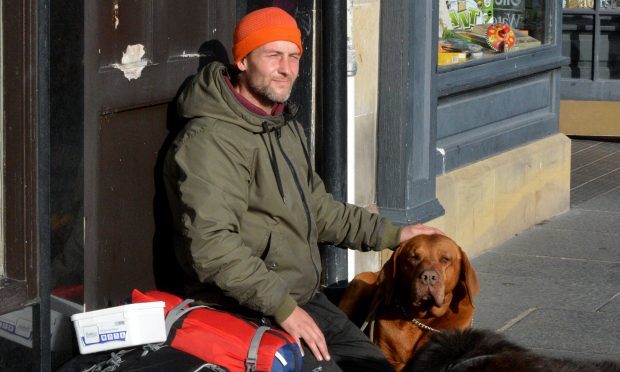 A former businessman who needs a heart transplant has been left homeless in St Andrews and faces a cold winter on the streets.
John Hunter made a good living in the polytunnel industry before ill health took its toll.
He lost his job and his home and has been sleeping rough in a tent on the town's beach. But even that small refuge was lost when his tent was torched by vandals.
The 39-year-old takes comfort from his two dogs but their presence make temporary housing impossible to find.
He said: "It feels like everybody looks at me like I'm scum or a junkie.
Fife Council said its officers were keen to help Mr Hunter. However, the local authority said if he was given temporary accommodation, Bruno and Nacho would have to be cared for elsewhere while a more permanent housing solution was arranged.
Mr Hunter was diagnosed with the heart condition cardiomyopathy in 2002 and remains on the streets, despite worsening weather posing a risk to his health.
"My dogs are my pride and joy. They're my bairns," he said.
"I love my dogs with all my heart. But the council won't give me a place because of my dogs.
"If I could just get the council to understand that I'm not going to cause any trouble and not going to make a mess. All I want is a roof over my head.
"I ended up losing everything I had. Everything went downhill and I ended up homeless."
He said his health problems had contributed to his ill fortune.
"Because of my health, most companies won't take me because of the insurance. Also, if you don't have an address, you can't get a job."
He added: "It feels like everybody looks at me like I'm scum or a junkie. Once I get this sorted out, I know it's going to be hard but I want to get a job and get on with my life."
Mr Hunter suffered a further setback a few weeks ago with the fire incident at his tent.
He has now moved to another location and is pinning his hopes on a local resident offering him her summer house to sleep in during the winter.
Meanwhile, he worries about fire-raisers striking again. "I panic about it every day," he said.
Louise Sutherland, Fife Council's service manager for area housing operations, said: "When we heard of his situation, we made contact with Mr Hunter to ensure he was aware of the immediate help and support available from the council and other local organisations.
"Temporary accommodation, by its nature, is unfortunately unsuitable for pets but we would never turn someone away on the basis that they had dogs.
"We would instead work with them to find temporary shelter for the dogs too – ideally something that would allow them to still maintain regular contact.
"No one in Fife should be sleeping rough and we continue to encourage Mr Hunter to consider the options available to him that will help secure a home for him and his dogs once more."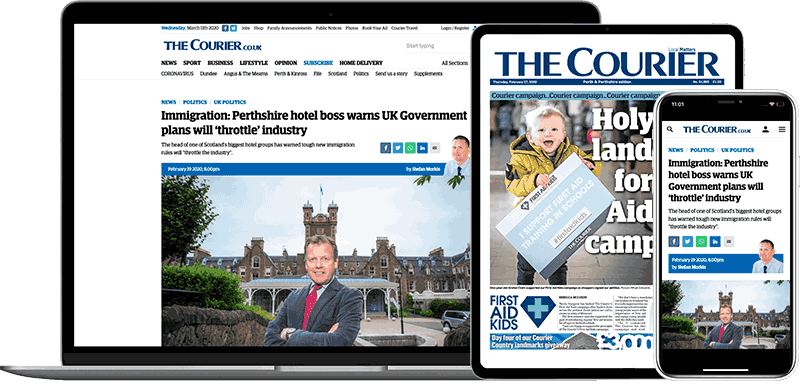 Help support quality local journalism … become a digital subscriber to The Courier
For as little as £5.99 a month you can access all of our content, including Premium articles.
Subscribe