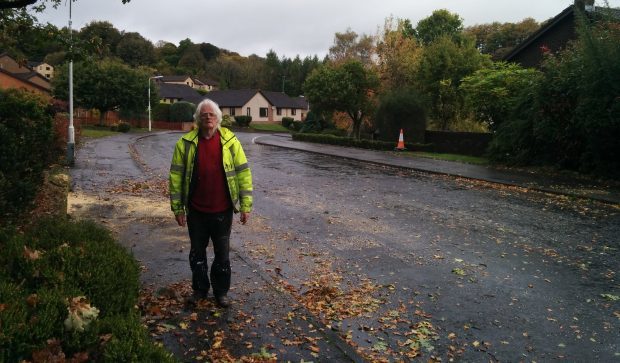 Residents in a Kirkcaldy housing estate had a lucky escape in the early hours of Tuesday morning after a tree crashed on to the main road.
Drivers trying to get in and out of Dunvegan Avenue were forced to make a detour as they awoke to find part of a huge oak tree blocking both sides of the road through the housing scheme.
The tree had been planted within a property on the estate and came down just yards or so away from homes and vehicles parked on both sides of the road.
Fortunately no-one was hurt and there was no damage, and it is understood the tree was cleared away before 10am.
However, home owner Tom Rush, 82, who managed to clear the fallen tree from the roadway himself before Fife Council workers arrived, conceded the incident could have had far more serious consequences.
"It's just as well the wind wasn't swirling as it could have taken it down any way," he said.
"There's usually two cars sitting in the neighbour's drive so if it gone that way it might have caused a bit more damage, so we're quite lucky.
"To be honest, I never heard it come down.
"I saw flashing lights which got me up at about 5.45am, and that must have been the people who shut the road."
Part of the tree was still standing and it is likely to need further safety assessments.
Mr Rush added: "I wouldn't be happy with it in further high winds to be honest, so it might need to come down."
Motorists across Fife were warned to be on their guard against the possibility of fallen trees and debris on the roads, although thankfully such incidents appeared to be few and far between.
The B9037 Sharps Brae to High Valleyfield road was completely closed because of a fallen tree in the early hours, while there were also reports of a tree partially blocking the Cluny road between Kirkcaldy and Cardenden.
Both incidents were reported to the authorities and have been attended to.
Meanwhile, the Forth Road Bridge and Queensferry Crossing were both closed to double decker buses for the rush hour due to the continued gusty winds, and there were longer queues than usual on both routes as people were forced to take their cars due to the severe disruption on the train network.
Chief Superintendent Stewart Carle, head of road policing in Fife, said: "We advise all road users to take extra care in what could be very difficult conditions.
"Drivers should also anticipate there may be debris on the road and local flooding due to the debris blocking the drains."
There were no reports of any significant power cuts because of the weather in Fife, but electricity distributor SP Energy Networks urged people to take precautions.
Ewan McMillan, SP Energy Networks' district general manager for Central and Fife, said: "Even though power cuts are rare events for most people, during times of extreme weather they become more likely, making it important for everybody to be prepared for a power cut.
"We have a team of engineers on hand 24/7 who will come out to your area to fix any power outages, but the sooner we know about it the better.
"You can report any power outages to us by calling the emergency hotline 105 or 0800 092 9290."