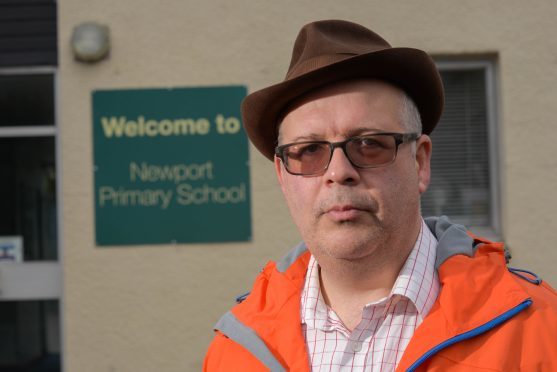 An "IT timebomb" in Fife schools could cause a fire hazard in the region's classrooms unless action to tackle the problem is taken soon, it has been claimed.
Liberal Democrat Councillor Jonny Tepp said he wants Fife Council to fund an urgent safety survey and agree a strategy for future equipment maintenance after learning of problems with ageing smartboards across the region.
Most smartboards in Fife work with LCD-type projectors which should be given a deep-clean every two years to guard against the build-up of dust which causes increased operating temperatures.
However, Mr Tepp fears failure to follow good practice will lead to lower performance, more frequent equipment failures and, in the worst case scenario, could lead to fires.
Fife Council insists the equipment is safe.
The Tay Bridgehead councillor is calling for an initial equipment survey costing £10,000 to be carried out on the smartboard infrastructure throughout the kingdom.
He said: "Times are hard but we must have a proper understanding of the problem that we now face. I hope that the money can be found and the survey can be progressed without delay.
"I also hope that a strategy can be developed and implemented to maintain, and where necessary replace, this equipment which is heavily used in our schools."
Mr Tepp said he was made aware of the problem by a local constituent who works in the audio-visual industry.
"He told me that this was a known problem in the industry and he asked me what steps Fife Council were taking to address it in September," he explained.
"I asked him to put the question directly to the head of ICT at Fife Council. After the meeting, the head of ICT reported back to me and confirmed that he agreed there was a problem.
"He had only been responsible for smartboards since March and there was a definite issue with the on-going reliability and maintenance of older models.
"At the moment he couldn't tell me the size of the problem but he believed many schools would have maintained their equipment properly.
"However, he thought that a review of the smartboard estate in schools was a good idea on safety and sustainability grounds."
Charlie Anderson, head of ICT at Fife Council, said Fife has not experienced any of the issues and stressed: "We can reassure parents, carers, pupils and local people that the IT equipment in Fife schools is safe.
"Reliability and performance issues can occur with any IT equipment as it gets older, and that is why all of our schools are fully aware of the need to maintain equipment in line with manufacturer's recommendations, and to report any issues with equipment quickly for repair.
"We are reviewing our equipment to confirm it is being maintained and operated, as required.
"We will provide further recommendations to schools on the maintenance and replacement of such equipment, if appropriate."
Mr Anderson added that any new schools equipment utilises lower-power, touch-screen/LCD technology, rather than projectors or lamp-based solutions, and therefore should not be prone to the same longer-term issues.
"Fife's continued investments in new schools, for example, includes on-going replacement and updating of this type of equipment with these solutions," he concluded.