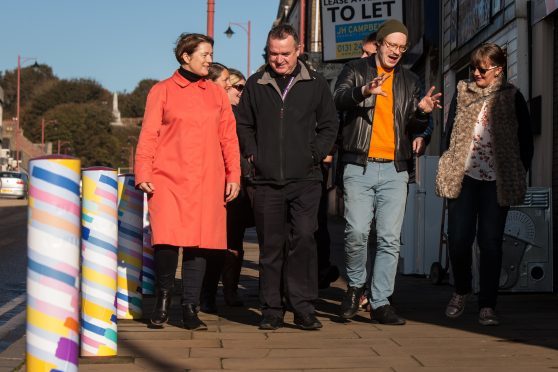 Boring bollards have become works of art as a Fife town looks to a brighter future.
Artists have wrapped more than 60 posts running along the length of Cowdenbeath High Street in print designs.
Glasgow-based studio NADFLY was drafted in to bring a splash of colour and use art to kick start a conversation about the town's development.
Colour Boulevard, as the installation is known, will remain in place until next Thursday as people are encouraged to have their say on regeneration of the town centre.
NADFLY led a walk of the boulevard yesterday and will remain in the town next week to engage with the public.
Artist Caspar Wilson said the organisation, which specialises in art for transformative community engagement, was invited to Cowdenbeath to conduct a project, and saw the bollards as an opportunity to get chins wagging.
He said: "They are a fairly mundane part of the environment and we have been able to turn them into something exciting and get people talking."
Just wrapping the posts had already got conversations going, said Caspar.
"Everyone wanted to stop and chat and ask what it was all about," he added.
"It's been very successful so far. We are getting people interested and people are happy to have something in Cowdenbeath High Street which brightens it up and gives it that colour and pop."
It is not the first time art has been used to cheer up the town centre. Artist Kerry Wilson painted shop shutters last year, with help from school children and a youth group.
Fife Council economic adviser Andrew Walker said: "Fife Council is delighted to be working with NADFLY as part of the wider regeneration of Cowdenbeath town centre.
"NADFLY has an excellent track record in place-making and bringing their expertise to Cowdenbeath will complement all the work that is being carried out.
"Using art and creativity in regenerating the town centre has been a key focus of the work carried out and has been warmly welcomed by the local community from the successful shutter art project to the Brunton House mural.
"NADFLY's innovative approach to community engagement  will help stimulate local interest from people of all ages and ensure that the people of Cowdenbeath have a say in the future of their town centre."
NADFLY was behind last year's ABC Routes public art project in Markinch, which used colourful signs with changing designs to map out pathways through the village.