As Hands Up for Trad announce Fife-raised Bobby Crowe amongst this week's 2017 Scottish Traditional Music Hall of Fame inductees, Bobby's son Stevie tells Michael Alexander why his late father would be "thrilled to bits" at the honour.
When Fife-based accordionist and band leader Bobby Crowe died on September 17, 2014, Perth-born pianist Joan Blue recalled that whenever Bobby was in a room, there was always laughter.
Usually, she said, it was because he was telling his one joke: A man going to a fancy dress party as a pirate went to a pet shop and asked for a parrot. The shop owner didn't have one but said 'Can you come back on Tuesday'?' to which he replied  'No, that's the day ahm getting ma leg off!'
Joan, the wife of late Forgandenny accordionist Jimmy Blue, said: "It was the way Bobby told it and how he always laughed as if it was the first time he had heard it."
Friends recall how following his retirement in 1994, Bobby would turn up on occasion still carrying his accordion case.
On opening it, instead of his beloved instrument, he would reveal a well-stocked cocktail bar that he would declare open as and when he chose.
Now, three years after his passing aged 81, the musician, master joiner – and comic – is being inducted into the Scottish Traditional Music Hall of Fame alongside nine others including Sir Billy Connolly and Cupar-raised folk musician Rab Noakes.
Amongst those sitting proudly in the audience at the Oran Mor in Glasgow on Friday night will be members of Bobby's family, including his son – Newport-based landscape gardener Stevie Crowe – who said his father would be "absolutely thrilled to bits" with the accolade.
"He was a super wee guy and a great composer," said Stevie, 59, who has fond memories of growing up with his siblings around the folk music scene in Fife.
"He is fondly remembered by a lot of people in the music industry.
"He used to do a Scottish Country Dance night in the Blyth Hall, Newport. That forced him to keep up his (music) reading skills. He wouldn't have made a good busker. He was very accurate in that respect. He spent a lot of time writing music but I don't know where he got the energy from!"
Born in Balmullo in north Fife on February 1 1933, Bobby Crowe took up the accordion aged 15 after a particular instrument caught his eye in the Musical Supplies shop in the West Port area of Dundee.
His uncle Hector bought it for him and encouraged by Dougie Maxwell, also from Balmullo, who played bass with Auchtermuchty's Sir Jimmy Shand, and inspired by a local accordionist, Jack Forsyth and Lindsay Ross, who made the accordion sound like a fiddle, Bobby began working on tunes including Cock of the North and the High Level Hornpipe.
In 1950 Bobby and Dougie Maxwell's son, Dougie Jnr, formed the Olympians, with Dougie Jnr, who had earlier played second accordion with Bobby, playing trumpet.
This was to be one of the last examples of a long tradition of having brass in a Scottish dance band and two years later, with David Finlay having joined on piano, the band passed its audition for the BBC at the first attempt, going on to make its first broadcast soon afterwards.
"My father started his own band in 1956 after he did his National Service," explained Stevie," and five years later he began a 33-year association with the BBC as a broadcasting bandleader. He did a lot of recordings from Coldside in Dundee, which was used by the BBC at one stage.
"He also appeared with other bands during this time, including the New Cavendish Band, and enjoyed a particular affinity with fiddlers Ron Kerr and Angus Fitchet."
Bobby went on to play lead accordion on Angus Fitchet's revered Fitchet's Fancy album and they also appeared as a duo on the Accordion & Fiddle club circuit for many years.
The hallmark of Bobby's own bands was that they were always great to dance to, due to Bobby's attention to getting the tempo just right and his insistence on choosing tunes that went together naturally in a set. He would spend hours searching through books and old manuscripts to find good tunes.
Bobby went on to record upwards of a dozen albums for the Royal Scottish Country Dance Society, becoming a regular at their summer schools in St Andrews, and he played for the Queen three times at Balmoral before a stroke caused him to retire prematurely from playing in 1994.
After he retired Bobby remained a strong presence on the Scottish dance band scene.
In November 1997 he was recognised by both the Royal Scottish Country Dance Society itself and the Leeds and Doncaster Branch for his outstanding contribution to music.
Stevie added: "This induction is a real accolade. It's a big big honour and he would be absolutely thrilled to bits."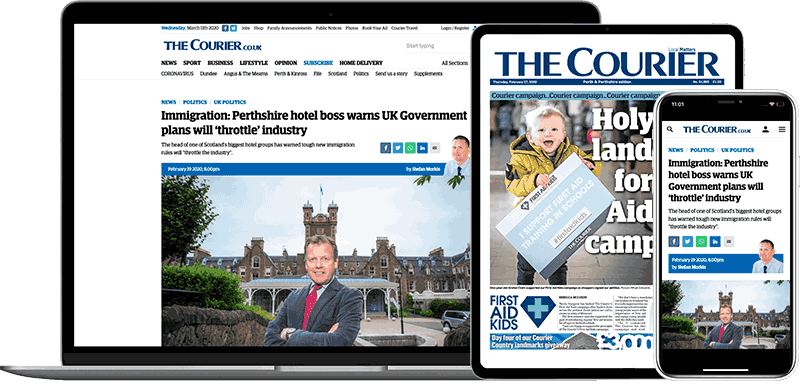 Help support quality local journalism … become a digital subscriber to The Courier
For as little as £5.99 a month you can access all of our content, including Premium articles.
Subscribe