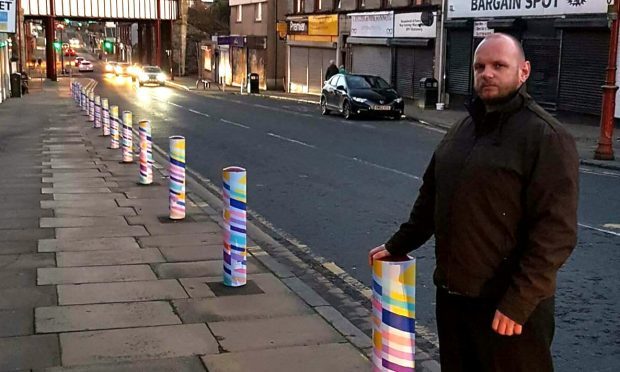 Covering bollards in a Fife town with coloured paper has been branded a ridiculous and pointless gimmick.
The Colour Boulevard project was aimed at kick-starting a conversation about improvements to Cowdenbeath town centre but Conservative councillor Darren Watt said he and many residents and business owners were far from impressed.
Fife Council drafted in Glasgow-based studio NADFLY, which specialises in art for community engagement, at a cost, it is understood, just short of £5,000.
Artists covered the bollards last week and remained in Cowdenbeath this week, gathering people's views on town centre regeneration.
Mr Watt said: "Residents, businesses and shop owners of Cowdenbeath are completely fed up with endless conversations, discussions and meetings. They want action, not more lip-service.
"Wrapping brightly coloured paper around some bollards for a week might bring short-term hope and enthusiasm but that will quickly diminish when we are back to reality and see little to no difference or improvement.
"If Fife Council is serious about striking up conversations regarding the future of our town, I would suggest they stop trying to be too radical and instead focus on the infrastructure we are so blessed to have and deal with the fundamental issues."
He said Cowdenbeath town centre needs more on-street parking, safer pavements and a general clean-up, and swift and decisive action on dealing with derelict buildings and shops.
"We lost several businesses last month and we're in danger of losing more if we continue to waste money and time on silly stunts like this," he said.
Gemma Muirhead, owner of Jane Kirk Hair and Beauty, said: "We should be focusing on how to attract business, foot traffic and interest in our town.
"Wrapping candy-striped paper almost makes a mockery of the High Street."
Ewen Mackenzie, owner of gift shop Something Different, said: "We need to get the empty shops filled, that would make the High Street look more colourful."
Fife Council community manager for Cowdenbeath Kevin Sayer said: "The exercise initiated by NADFLY is intended to raise awareness of the £1 million-plus project that will be undertaken to improve walking and cycling routes into Cowdenbeath Town Centre together with improvements to public space and street furniture.
"The work is funded from the overall project budget.
"On the day that the bollards were wrapped, NADFLY spoke to all the shopkeepers on the High Street, taking their views on the forthcoming work.
"This week they are meeting reps from Cowdenbeath Community Council and staff at Beath High School to develop consultation and engagement with a wider audience.
"As well as securing the significant amount of external funding for this work, we are working hard to address the issues that Councillor Watt identifies, supporting a retailers' business breakfast club, improving the look of shops via the shutter art initiative, providing free town centre wi-fi and making better use of the green space with the first crafters' market taking place in November."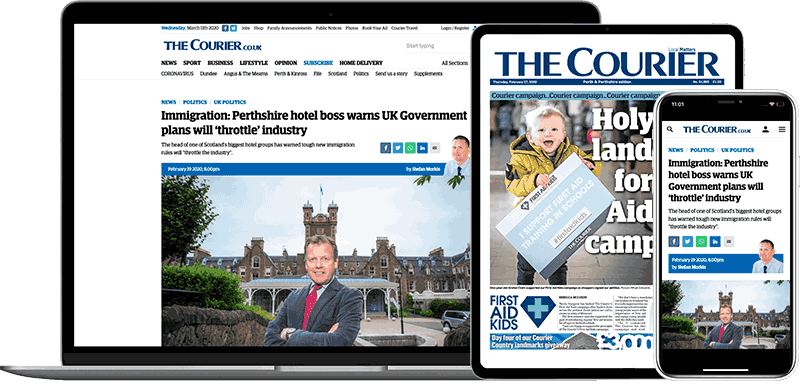 Help support quality local journalism … become a digital subscriber to The Courier
For as little as £5.99 a month you can access all of our content, including Premium articles.
Subscribe