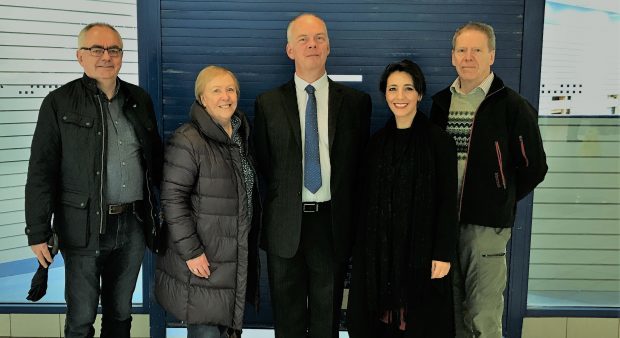 New Fife businesses who have graduated through the Prince's Trust enterprise programme have effectively been handed the keys to their own shopping malls.
They are being given the opportunity to set up shop in Dunfermline's Kingsgate Centre for two weeks before Christmas.
Shoppers can visit the Prince's Trust-supported businesses in a unit situated directly opposite the Marks & Spencer store from Tuesday November 21 to Saturday December 2
Prince's Trust senior enterprise executive Marissa Yassen received the keys from Kingsgate manager Neil Mackie before the opening.
"This will be an excellent opportunity for Fife's young entrepreneurs to showcase their products and services to the Christmas shoppers at the Kingsgate," she said.
Thanking the centre's management team for giving the trust's young people this amazing platform, especially at this time of year, she added: "There will be much on offer for Christmas shoppers who visit the pop-up store.
"We look forward to receiving the support of the people of Dunfermline and beyond and hopefully this can be a stepping stone to bigger things for these entrepreneurs as well as inspiring the next generation of young people into business."
Mr Mackie said: "We look forward to welcoming the Prince's Trust businesses to the Kingsgate and hope that the store will generate much interest for the shopping public and sales for the participating businesses."
Prince's Trust works in close partnership with Business Gateway Fife, offering one to one support, access to possible funding streams, free courses and events to young people between 18 and 30.
Young people face numerous challenges when setting up a business from unemployment, lack of funds, low confidence and self-esteem.
However, the combined support of the trust and Business Gateway Fife aims to make this a reality and change their lives positively for the long term.
For more information visit www.businessgatewayfife.com/finance/princes-trust-youth-business-scotland