Closure of a Fife paper mill made a large dent in progress towards the Scottish Government's targets for renewable heat generation.
After Tullis Russell shut in 2015 an 11% drop was recorded in renewable heat generation.
The loss of the plant, a significant user of renewable heat, was said to be the primary cause of the reduction in output by energy minister Paul Wheelhouse.
Concern was voiced that the figures suggested just a few large plants were using renewable heat, but it was also claimed it underlined the need for a scheme like the proposed Glenrothes District Heating Scheme.
It is proposed that the RWE Markinch Biomass CHP plant, commissioned in 2014 to replace Tullis Russell's previous coal and gas-fired plant, is used for the heating scheme.
The Scottish Government aims to meet 11% of its non-electrical heat demand from renewable sources by 2020.
Scottish Liberal Democrats leader Willie Rennie said: ""This report shows the huge contribution the biomass plant at Markinch was making towards the renewable heat total in Scotland.
"With the closure of Tullis Russell it also reinforces the need to fully utilise this capacity.
"The Glenrothes District Heating Scheme could soon use that capacity to heat homes and businesses locally.
"If this is a success it could stimulate other projects like the one proposed for Cupar.
"Scotland has a long way to go to catch up with other countries and we need to make good progress soon if we are to meet our climate change obligations."
WWF Scotland's senior climate and energy policy officer, Sarah Beattie-Smith, said: "We can't be dependent on a few key plants to underpin the renewable heat transition.
"We need to ensure that the benefits of clean, affordable low-carbon heat are spread to homes and businesses right across Scotland."
While the report on renewable heat targets and action by the government showed a 13% increase in renewable heat capacity, Ms Beattie-Smith said it showed there was still significant progress to be made in heating homes and buildings from renewable sources and bold leadership was needed.
Mr Wheelhouse told the Scottish Parliament: "During the 2016 calendar year, an estimated 4.8 to 5% of Scotland's non-electrical heat demand was supplied from renewable sources.
"Renewable heat capacity increased by 13% and renewable heat generation decreased by 11%, when compared with 2015.
"This reduction in output was primarily due to the closure of the Tullis Russell paper mill in Fife, a significant user of renewable heat.
"However, while figures for 2016 represent a decrease from 5.4% in 2015, had the Tullis Russell site remained open and heat demand remained static, renewable heat generation would have increased."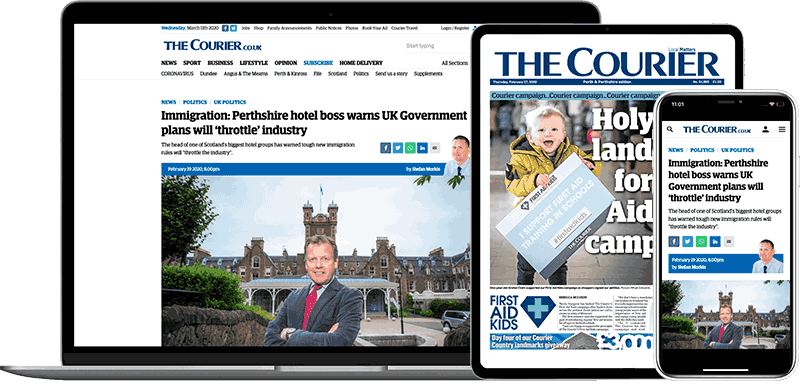 Help support quality local journalism … become a digital subscriber to The Courier
For as little as £5.99 a month you can access all of our content, including Premium articles.
Subscribe