Work to refurbish one of Scotland's most historically significant churches is expected to be completed early in the new year.
Described by the General Trustees of the Church of Scotland as being "the single most important place of worship in Scotland", Leuchars St Athernase Church is at the centre of a £600,000-plus project aimed at ensuring the 12th century structure stands for centuries to come.
Refurbishment works commenced in July and work to repair the roof, re-point masonry and replace damaged stonework, stonework using traditional materials is now more than halfway complete, with those behind the scheme hoping it will all be done and dusted in January.
The Courier was given a sneak peek behind the scenes on Monday, and Doug Binnie, director of Dundee architects Nicoll Russell Studios, revealed the project is "going well" despite having to overcome a number of problems uncovered along the way.
These have included an unforeseen level of wet rot and timber infestation, making good previous repairs where cement based mortars and concrete copings had been used, full replacement of the stone slates to the Chancel roof due to their poor condition and more recently severe structural cracking at the junction between the original 12th century chancel and apse and the nave extension added in the mid-19th century.
"A project of this type will always be challenging, but it's going well," he said.
"We're a little behind programme, but that's more to do with the fact that a lot of the work is external.
"When it's really wet or there are unstable or dangerous conditions due to wind, progress is restricted and there is not a great deal the contractor can do."
The church is unique in that it is a Grade A-listed church with a Grade B-listed graveyard, and is deemed to be one of the finest remaining examples of Romanesque church architecture in Scotland.
"Being a grade A-listed building also means that there are limitations as to the manner by which we can fix to the existing structure, but these have been overcome by working closely with the contractor and Fife Council Planning and Conservation officers," he continued.
"This is a building with a long history and throughout its life has been the subject of various architectural iterations, but also a series of well-intended repairs works, that have now had to be rethought.
"The primary objective for this phase of the works is to ensure that the building is structurally sound, its fabric is wind and watertight and that a long-term dampness management regime is put in place, and maintained."
Mr Binnie said workers expect to find the foundations of other buildings that existed on the site during the groundworks, once the scaffolding is removed.
Historic Environment Scotland have said that the project is being held up an as exemplar and that some of the work in the graveyard around the church had attracted additional investment, the outcome of which will inform guidance for future projects facing similar problems.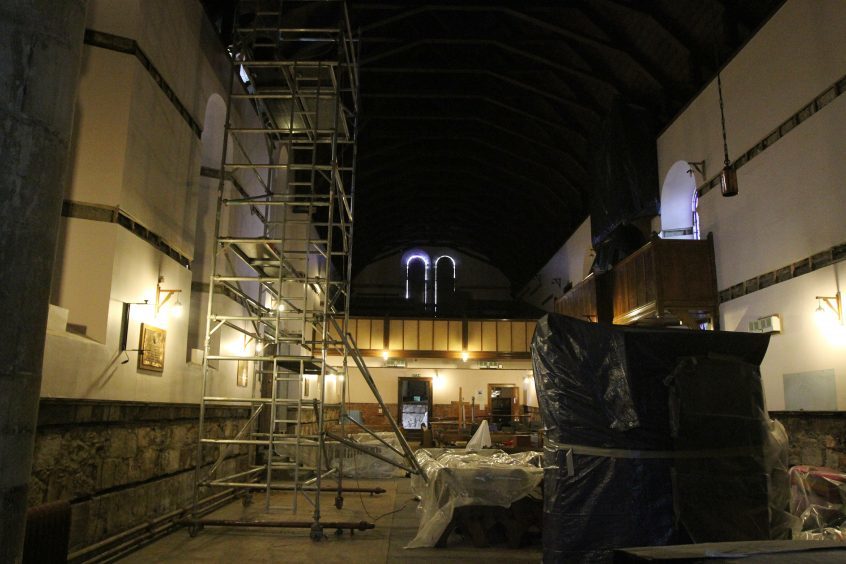 Those behind the project are also keen to see floodlighting restored to light up the church in all its glory, although that aspect might not be possible without further funding.
Examples of timber stone and slate materials that have been uncovered or removed from the church, including small bottles one of which had contained coffee essence, are likely to go on display in a special post-contract exhibition, which will tell the story of the project from inception to completion.
If all goes well, Rev John Duncan revealed that the intention is to have a special Songs of Praise evening at the newly-revamped church in spring 2018, to which the community and stakeholders will be invited.
"The building has to be living, as it has done for centuries, in the community here, or it would just become a mausoleum of nothing," he said.
"We want it to be used by the community, not just for worship on a Sunday. The aim is ultimately for it to be used as a community resource."